A Home for the Homeless
in Harrisburg, Pennsylvania
The City of Harrisburg, Pennsylvania has a Safe Haven for chronically homeless residents on North 12th Street thanks to HUD and other partners who invested in the vision of the Capital Area Coalition on Homelessness and the Christian Churches United (CCU). Ribbon cutting and dedication ceremonies for this semi-permanent housing facility for chronically homeless and disadvantaged persons were held Monday, July 27, 2009.
The City of Harrisburg and the Harrisburg Redevelopment Authority were the primary developers of the Susquehanna Harbor Safe Haven facility; but the vision for the project was born over seven years ago. City officials credit the CCU and the Coalition for maintaining the focus on the project and for their tireless commitment to delivering products and services to help those families, friends and children who suddenly find themselves without a home.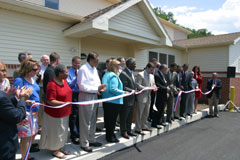 Susquehanna Harbor Safe Haven ribbon cutting
Susquehanna Harbor Safe Haven is the first facility of its kind in Central Pennsylvania and consists of 25 units of permanent housing for homeless individuals suffering from a mental disability or recovering from alcohol or drug dependence. The facility also has a large Community Hall where a "Winter Month Evening Hours Outreach Center" with overnight accommodations for up to 40 additional people will be operated.
The Christian Churches United will conduct the day to day operation of the facility and deliver programs to promote health care, on-site job training, credit counseling and other specific programs. Partial funding for these on-site programs was provided through a $933,000 Supportive Housing Program grant from HUD.
There will be around the clock staff available to provide services to help the residents maintain good health and develop greater self sufficiency. Homeless veterans are welcome at the facility. Service to these veterans will be provided in concert with the local veterans association that will help to coordinate what services they might need. The goal of the facility is for chronically homeless residents to leave the facility on a staggered basis and move to private housing to make room for others who can leave the streets and find shelter and help at the 25 unit wing.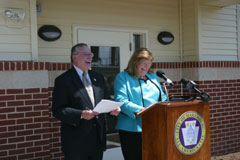 Harrisburg Mayor Stephen R. Reed and HUD Deputy Regional Director Brenda Laroche.

HUD Deputy Regional Director Brenda Laroche said at the dedication event, "We are proud to be partners in this endeavor to help house those who might otherwise be living on the streets." She added, "HUD's investment in this project will help provide homes and vital services to those who need them most�individuals who deserve a place they can call home."

Harrisburg Mayor Stephen R. Reed said other funding for the $2.16 million construction project came from the City of Harrisburg ($200,000), the Harrisburg Redevelopment Authority ($210,864), the Dauphin County Commissioners ($125,000), the Pennsylvania Department of Community and Economic Development ($452,643), and Citizens Bank of Pennsylvanian and the Federal Home Loan Bank of Pittsburgh ($500,000). Metro Bank provided a $650,000 first mortgage. The land for the project was donated by the City of Harrisburg. In addition, downtown clergy pledged a total of $40,000 per year towards the facility's operating costs. Clergy who previously offered basement space for the homeless during the winter months will now provide volunteers for the new centralized facility.

This is truly an example of a faith and community-based, private and public sector partnership that will help some of our most vulnerable neighbors in Central Pennsylvania find a safe and comfortable place to call home.

Content Archived: February 28, 2011