In Puerto Rico, Award Winning Hands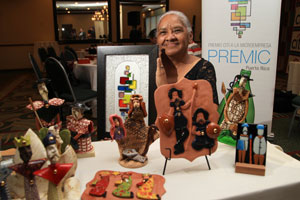 Concepción Ortiz creates beautiful artisanal plaques


Concepción Ortiz creates beautiful artisanal plaques featuring Puerto Rican motifs, jewelry, and mosaics. Concepción, a resident of Luis Llorens Torres public housing, is an example of the many entrepreneurs who live in HUD-subsidized housing: She uses her talent to create economic opportunities for her family, while mentoring other residents to also follow their dreams and create their own enterprise.
Concepción knows first-hand that starting and running a small business is hard but, for those who achieve it, the rewards abound. On November 7th, 32 micro entrepreneurs and four microfinance institutions were nominated for their success at the PREMIC Award Ceremony from Citibank Foundation. These businesses represent the hard work, creativity, and quality to be found around the island, from artisanal body care, food products, and accessories to personalized services such as hair styling, adventure tours, and therapy. The PREMIC Award is given out in 35 countries around the world and, according to Guillermo Gómez, the foundation's representative in Puerto Rico, serves to "recognize the passion and drive of micro entrepreneurs in generating economic activity in our communities."
The quality of Concepción's work paid off. She obtained a Second Place Award for established microenterprises.
HUD San Juan Field Office Director, Efraín Maldonado, served on the selection committee of the award and had the opportunity to learn of the hardships and growth of these small business owners on their paths to success. Efrain and the Puerto Rico HUD team congratulate all PREMIC winners and applaud their contributions to their local communities.
###