Puerto Rico Desarrolla -
A new approach to housing development
"Puerto Rico Develops" or in Spanish Puerto Rico Desarrolla is the result of a multiyear effort to develop a comprehensive housing plan for Puerto Rico.
Announced earlier this month in San Juan, its first tangible product was the presentation of a unified Notice of Funds Available (NOFA) aiming to promote the development of 800 new affordable housing units with an estimated $200 million dollar investment, including Low Income Housing Tax Credits (LIHTC) and HUD funds.
In addition, with the presence of HUD's technical assistance providers in San Juan, a Master Development Agreement was negotiated for the redevelopment of three public housing projects. The expected result will be 740 new units and an approximate $170 million dollar investment, including LIHTC and HUD public housing capital funds.

From left, Alberto Lastra, Secretary of the Puerto Rico Department of Housing; Efrain Maldonado, HUD San Juan Field Office Director; Hon. David Bernier, Acting Governor of Puerto Rico; Jose Sierra, Executive Director of the Puerto Rico Housing Finance Agency; Carlos Santini, Commissioner of Municipal Affairs.
The origins of Puerto Rico Desarrolla go back to March 2011. At that time, a President's Task Force on Puerto Rico's status presented a report that addressed the issues of housing programs and institutional capacity.
One of the recommendations was for HUD to assist with the development of a comprehensive state housing plan for the Island. For the past four years, the San Juan Field Office took the goal to heart for its local based strategies and community needs assessment efforts.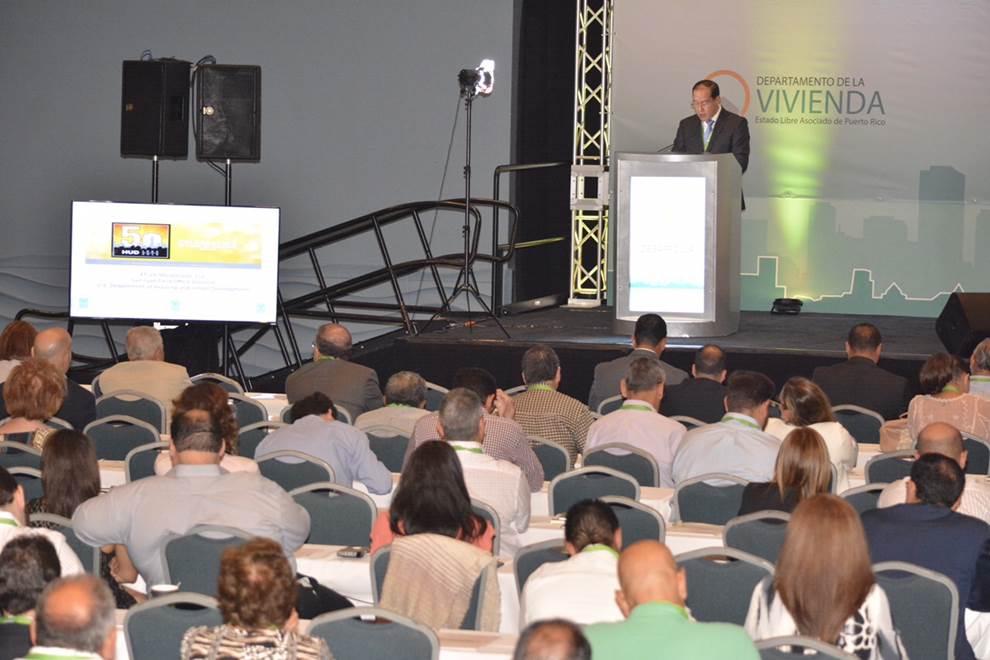 HUD San Juan Field Office Director Efrain Maldonado presents the Unified NOFA for housing development.
HUD assisted in the completion of the State Housing Plan through the provision of direct technical assistance on the ground. The resulting plan is designed to be a wide-ranging, market-based housing plan as well as an assessment tool to address local agencies staff and capacity.
This is a major economic development boost for the island construction and housing industries at a time when Puerto Rico faces the worst economic crisis in the US history. But most importantly, it is another opportunity for low-income families on the island.
For More details, please visit Puerto Rico Desarrolla (www.vivienda.pr.gov/pr-desarrolla/)
###