Puerto Rico: Government agencies prepare for disasters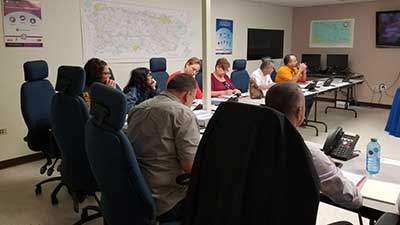 Interdisciplinary working groups shared experiences and resources in preparation to respond to disasters.


Each disaster incident comes with its own set of challenges but, being prepared and knowing what each agency does during these events helps throughout recovery.
During the last three months, the HUD San Juan team, in partnership with the Puerto Rico Emergency Management Agency (PREMA) (www2.pr.gov/agencias/aemead/Pages/default.aspx) Federal Management Agency (FEMA) (https://www.fema.gov/), USDA Rural Development (https://www.rd.usda.gov/), and US Small Business Administration (https://www.sba.gov/) discussed damage assessment, individual assistance, volunteers, disaster loans; and community facilities.
HUD shared its resources for foreclosure prevention, housing counseling agencies, and housing rehabilitation and replacement. For more details on disaster relief and emergency assistance in Puerto Rico and the U.S. Virgin Islands, visit HUD's website.
###