Community Development and Housing Summit in Charleston
Helps Faith-Based and Community Organizations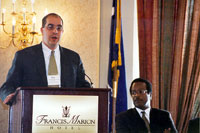 HUD Regional Director Brian Noyes and Columbia Field Office Director William Gregorie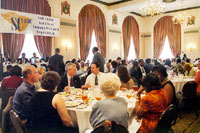 Attendees at the 2003 Community Development and Housing Summit
Close to 500 people representing faith-based and community organizations from all parts of the State of South Carolina converged on the Low Country to take part in a capacity building conference September 9 and 10, 2003.
The Columbia HUD Field Office, its collaborative partners Fannie Mae, USDA/Rural Development and its co-sponsor, the South Carolina Association of Community Development Corporations, made an extraordinary effort to reach out to faith-based and other community organizations to engage them in a series of workshops designed to create mutual expertise through collaborative partnerships. Many attendees were new to the faith-based and community initiative effort.
Recognizing the importance of the role that faith-based and community development leaders play in planning and implementing housing and community economic development activities, the array of workshops were designed to exemplify the core of the administration's Faith-Based and Community Initiative (FBCI) which strives to:
educate faith-based and other community organizations to opportunities for partnerships and collaboration;
equip these faith-based and other community organizations with tools and skills needed to develop and implement realistic action plans; and
empower them to take actions necessary to revitalize communities and improve lives.