From Homeless to Homeownership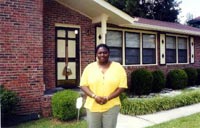 Serdaria Bouknight stands in front of the home she was able to purchase as a result of her involvement in the Columbia Housing Authority's Family Self-Sufficiency Program.
How one former Columbia Housing Authority resident changed her Life in South Carolina
When Serdaria Bouknight appeared at the door the day Ashley Elsasser, Director of Public and Media Relations for the Columbia Housing Authority, went to interview her for this story, she was all smiles. And why shouldn't she be? The former Columbia Housing Authority (CHA) resident has survived some of life's most difficult obstacles and has succeeded against all odds. Her story is both amazing and inspiring, and best of all she had agreed to share it with others.
Bouknight's life was tough, right from the start. Born to heroin addicts, she and her brother lived with their parents until Bouknight reached the age of 12. At that point, her mother realized that the drug addiction she had battled with for so long was preventing her from giving her children the care they needed. So, Bouknight and her brother were sent to live with their aunt.
"Although my mother wasn't there for me in the beginning, she has really become a positive influence on me in the last few years," said Bouknight. "She has encouraged me to live my own life and to raise my children and to not become a dependent of her disease. If she hadn't given me up, I probably wouldn't be here today."
Although her mother's intentions were good, the situation at her aunt's house wasn't much better. "Things were bad at my aunt's house," said Bouknight. "It was overcrowded, and a lot of times I was depressed and missing my mom." Although her aunt's house was her legal residence, Bouknight spent very little time there. She often stayed with friends and in shelters. It was at the Family Shelter that she first heard about the affordable housing available through the CHA.
A few weeks before her 18th birthday, Bouknight applied for housing with the CHA. Shortly after she turned 18, she got the call that an apartment had become available. Anxious to be off the streets and to finally have a place she could call home, Bouknight signed a lease and moved into the Latimer Manor community in June of 1994.
Five years went by, and although she had a home and was no longer on the streets, things were still difficult. Bouknight lacked the skills she needed to find better paying jobs. She was employed at the Governor's House Hotel as a housekeeper, and she was anxious to find a way to provide a better life for her family.
In January of 1999, Bouknight found the solution to her problem-the CHA's Family Self-Sufficiency (FSS) program. When Bouknight signed up for the FSS program she established the following goals:
to gain computer skills
to earn a Bachelor's Degree
to buy a home
With the help of her case manager, Bouknight set to work to achieve these goals. She enrolled in the CHA's computer training classes and Life Skills classes. She completed the homeownership training classes and began saving money through the FSS Escrow Account Program. In May of 2002, she graduated from Columbia College with a Bachelor's Degree in Social Work. Bouknight achieved her final goal in May of 2003 when she purchased her home.
Although she has come a long way, Bouknight is still striving to succeed. In addition to being employed full time as an office manager at Trinity Housing Corporation, she is working on a Master's Degree in Human Resources and Business Management at Webster University. Once she completes that degree, she hopes to begin the Ph.D. program at the University of Phoenix online. Additionally, Bouknight volunteers as a small group facilitator at Prevent Child Abuse.
Although she is excited about the progress she has made, Bouknight is more concerned about the positive affect her accomplishments will have on her two children, Cedric, age 10, and Natalya, age 5.
"It makes me feel good to know that I can expose my kids to so much more in life," said Bouknight. "I take them to museums and to other beautiful cities. I want to show them that there's more to life than being on the street."
As she gave Ashley a tour of her house, her excitement was contagious. Each room was filled with pictures of her children and stories about friends and family. Ashley suddenly had the image of the house as a trophy that had been awarded to Bouknight for overcoming the many trials and struggles she encountered on the path to financial independence.
"I am so grateful and so blessed," said Bouknight. "If I hadn't faced all that I did, I would have missed out on the many blessings I have today."
After they finished touring the house, they moved back to the living room to complete the interview. For Ashley's final question, she asked what advice Bouknight might give to other CHA residents who were considering following in her footsteps. This was her answer:
"Find faith and keep it. Have patience because life will not be fair or be easy. You will cry, you're gonna cry, but it's worth it. Overall, let God and let go."