Helping Storm Victims Deal with the Aftermath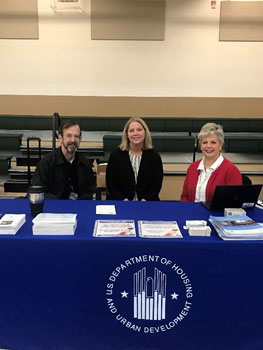 HUD team assisting with disaster recovery in South Carolina. From left, Steven Esterl, Atlanta Office of General Counsel Enforcement Analyst; Kristine Foye, South Carolina Field Office Director; Suzzanne Piacentieni, Hartford Field Office Director.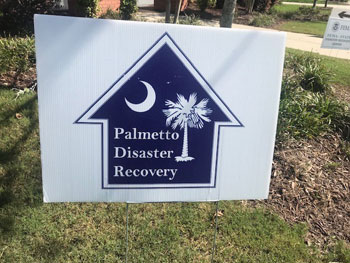 Palmetto Disaster Recovery Sign.


Hurricane Florence was a powerful and slow moving storm that caused extensive damage in the Carolinas in early September 2018. Dropping almost 40 inches of rain, it was the wettest tropical storm recorded in the Carolinas and carried sustained winds of 130 mph before making landfall in the Carolinas. Despite making landfall as a weakened Category 1 hurricane, Florence still had enough wind speed and power to uproot trees, cause widespread power outages and major flooding throughout the Carolinas. The resulting damage totals statewide exceeded $607 million.
FEMA reports that almost 16,000 people in South Carolina were impacted, and $20.1 million in Individual Assistance was awarded. HUD provided a team to staff the Joint Field Office (JFO) and Disaster Recovery Centers (DRCs). Led by Suzanne Piacentini, Hartford Field Office Director, the team assisted 751 survivors in the DRCs and at multiple statewide SC Disaster Recovery Fairs.
"Survivors impacted by these hurricanes are facing very difficult times, which is why I am proud to be part of the HUD team whose goal is to help people return to their normal lives, in particular safe, stable housing, as quickly as possible," said Suzanne.
In May, 2019, it was announced that the State of South Carolina would receive $47.7 million in CDBG-DR funding (www.youtube.com/watch?v=Lrmwz8IXXdQ), bringing the total CDBG-DR funding awarded in the state since 2015 to $529.7 million. There are active grants from the 2015 severe flooding, 2016 Hurricane Matthew, Mitigation funding, and now Hurricane Florence.
###