Homeownership Month Poster Contest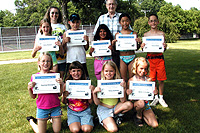 Brookings Elementary students were awarded certificates for their National Homeownership Month poster entries.
In a celebration of National Homeownership Month, the East Central Board of Realtors working with HUD staff created a Homeownership Poster Contest for Brookings elementary school children enrolled in after-school programs. The participating students illustrated why homeownership is important and submitted their art work to a panel of judges composed of realtors and local officials. Mayor Virgil Herriott presented savings bond prizes to nine winners
at a special June 27 awards ceremony attended by families, neighbors, and Brookings residents.
All entries were displayed at local businesses and city offices throughout the month of June for the entire community to enjoy.
This year, the national homeownership rate reached the highest in history - 68%. South Dakota's homeownership rate is one of the highest in the country - over 71%. Homeownership is critical to the nation's economic health as it strengthens families through financial security and stability for children. Homeownership also strengthens communities by creating stakeholders through local investments.
Content Archived: April 5, 2011