Teacher/Officer Next Door Program Now Available in Aberdeen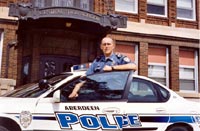 Aberdeen police office
New revitalization areas designated in Aberdeen allow police officers and teachers the ability to purchase a HUD owned property in a revitalization area at a 50% discount. The Officer Next Door (OND) and Teacher Next Door (TND) programs were implemented by HUD to help make communities stronger by encouraging officers and teachers to buy homes in low and moderate-income neighborhoods.
The TND program is open to any person "employed full-time by a public school, private school, or federal, state, county, or municipal educational agency as a state-certified classroom teacher or administrator in grades K-12." To be eligible to participate in the OND program, you must be a full-time, sworn law enforcement officer who is "employed full-time by a Federal, state, county or municipal government; or a public or private college or university." You must be "sworn to uphold, and make arrests for violations of, Federal, state, county, or municipal law."
A successful bidder may purchase an OND/TND property at a 50 percent discount from the list price. For example, if a HUD home is listed for $60,000, an officer or teacher can buy it for $30,000. To make a HUD home even more affordable, get an FHA-insured mortgage with a downpayment of only $100 and finance all the closing costs.
OND/TND properties are listed and sold exclusively over the Internet. New listings come out on Thursdays with bids due no later than the following Tuesday.
For more information on these programs, contact the Sioux Falls HUD Field Office at (605) 330-4223 or Email SD_Webmanager@hud.gov.
Content Archived: April 5, 2011