Reverse Mortgage Helps Senior Buy New Car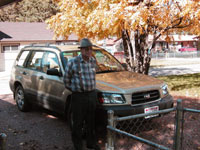 John with his first new car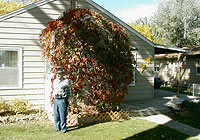 John used the equity in his home to purchase a new car
John went from driving a Model A Ford to new car with the help of a Federal Housing Administration (FHA) reverse mortgage. The Model A was John's first car, but the Subaru Frontier was the first new car he had ever bought in his 90 years. Often senior citizens have equity in their homes but need to convert that equity into cash. That's what John did with the reverse mortgage.
John's son learned about the FHA reverse mortgage program at a local home show and approached his father about the idea of getting one. John contacted a lender, where he and his family learned more about the program and decided to apply for it. During the loan process John discovered his house had appreciated by over $100,000.
The cash from a reverse mortgage may be drawn in several ways - a lump sum, monthly payments, a line of credit, or a combination of these. The money can be used for any purpose, including: paying off outstanding debt, medical expenses, buying equipment or services that allow a person to remain in their home, buying prescription drugs, home repairs, or travel. In John's case, he was able to pay off some debt, buy new headstones for his parents and baby brothers' graves, and put the balance into a line of credit. Then, when his car needed several repairs, he decided to do something he had never done before - buy a new car.
At the age of 90, John has seen many changes in the world. He went from breaking wild horses during the depression to driving a truck for 35 years, logging over 900,000 miles just in the Black Hills area. John is happy with his reverse mortgage. Not only did it allow him to buy a new car, but also it has given him a sense of security, knowing that he has money available if the need arises.
For more information on the reverse mortgage, contact AARP at: 1-800-209-8085, or a HUD approved housing counselor that is approved for Home Equity Conversion Mortgages (HECM).
Content Archived: April 5, 2011