Local Teacher Finds a Great Deal on a HUD Home
After teaching in a rural community for a year, Janna decided to move back to her hometown of Sioux Falls. While surfing the Internet looking for rental housing she noticed a reference to "teacher" on HUD's web site. When she first read that a home eligible under the Teacher Next Door (TND) program could be purchased at a 50% discount, she thought, "What's the catch?" After reading more about the program and not wanting to pass up a great opportunity, she decided to find out more.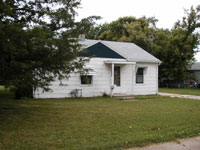 Janna's home before improvements.
Janna found a house that was built in 1946 that still had the original kitchen cabinets and bathroom fixtures. The house also needed a lot of indoor and outdoor cosmetic improvements, but the price was right. She decided to make an offer, the offer was accepted, and she was on her way to becoming a homeowner.
With determination, hard work and support from her family, she began to turn her new house into a home. Janna added new floor coverings, updated the kitchen and bathroom, applied a fresh coat of paint inside and out, and had new garage doors installed. She cleaned up of the yard and the once unsightly house is now a pleasant and attractive home.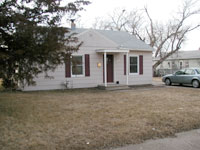 Janna's new home.
Janna financed the purchase of her home and the improvements through the South Dakota Housing Development Authority (SDHDA) first-time homebuyer program. Her monthly payments are less than what she would have paid for rent. It was definitely too good of a deal to pass up.
Learn more about Homeownership in South Dakota, the Teacher Next Door and the Officer Next Door Programs on the following web pages.
Homebuyer programs in South Dakota (www.hud.gov/southdakota)
South Dakota Housing Development Authority's homebuyer programs (http://www.sdhda.org/Homebuyer/ho.htm)
HUD's Good Neighbor Next Door Program (www.hud.gov)
Content Archived: April 5, 2011