Northwest Notes
Office of Public Housing
Region X - Alaska, Idaho, Oregon, Washington
FY2011 Quarter III - July 13, 2011
---
The Director's Corner
We are all well underway with the FFY 2011 Department of Defense and Full-Year Continuing Appropriations Act 2011, "HUD Appropriations Act" enacted April 15, 2011, that included a number of PHA program funding opportunities. The list of FY2011 programs available is on the website and on the Grants.gov website (http://www.grants.gov/search/).
This year, HUD plans to publish NOFAs as they are approved for publication. Be prepared for these and other opportunities for which your PHA may qualify. If you have not already done so, consider signing up for the funding opportunity notification subscription service (http://www.grants.gov/applicants/email_subscription.jsp) to receive any changes to the General Section or to HUD's FY2011 NOFAs.
On behalf of Office of Public Housing team members in the Seattle, Portland and Anchorage offices, we hope this newsletter is helpful to you. Let us know if there are items you would like to see in future newsletters.
Harlan Stewart, Director
Office of Public Housing
Seattle
Joy McCray, Program Center Coordinator
Office of Public Housing
Portland
Home Forward Awarded HOPE VI Grant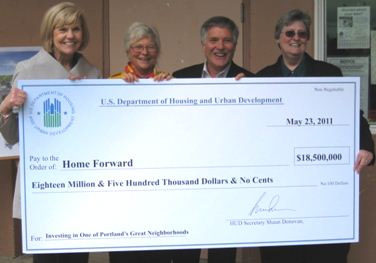 From Left to Right: Portland FO Program Center Coordinator Joy McCray, Home Forward Board Vice Chair Harriet Cormack, Home Forward Executive Director Steve Rudman, and HUD Regional Director Mary McBride.
On May 23, 2011, Home Forward, the new name for the Housing Authority of Portland, was awarded $18.5 million in a HOPE VI Revitalization Grant to execute a comprehensive redevelopment of the Hillsdale Terrace property. This is one of eight HOPE VI Grants awarded across the country.

The light drizzle did not dampen the enthusiasm of the crowd of Hillsdale Terrace residents, Home Forward Staff, and other stakeholders celebrating the announcement. HUD Regional Director Mary McBride, upon announcing the award, said "this grant represents a significant investment in one of Portland's oldest Neighborhoods, expanding the supply and the mix of housing, creating new economic opportunity, and linkages and making sure that it's a vibrant, integral part of the 21st century Portland."
Located in Southwest Portland, this 40-year-old property is in serious need of repair. The public housing property currently has 60 three-bedroom units on around six-acres, situated in a deep, bowl-like terrain. After the standing structures are removed, the units will be replaced with 122 units of varying bedroom sizes. Seven off-site homes, developed in partnership with Habitat for Humanity, will also be available to first-time homeowners. The new Hillsdale Terrace will also include various sustainable and green building features, community garden space, a community center, and more open spaces and play areas.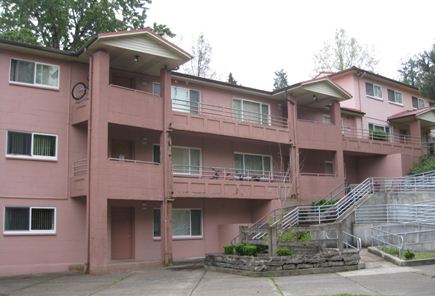 The current exterior façade of the Hillsdale Terrace development in southwest Portland
The redevelopment will also bring three levels of services to the Hillsdale Terrace residents. Neighborhood House will provide Head Start and other early childhood programs. A partnership with Worksystems, Inc. will provide job training and career services to connect residents to new and better job opportunities. Services will also be provided to support the overall health and wellness of the Hillsdale Terrace Community.
With a total cost estimated at $47.3 million, the HOPE VI Grant will be combined with $12.2 million in low-income housing tax credits and $5 million from the City of Portland. The remainder will be funded through proceeds from the sale of Home Forward's scattered sites. Thirty-five other organizations also provided letters of support and matching funds to help current and future residents.
FY10 ROSS Grant Awards
Congratulations to all who were awarded Resident Opportunities and Self-Sufficiency (ROSS) grants. Those awarded include PHAs, Resident Associations and Tribal Groups. Grant recipients will now have the chance to provide much needed service coordination and self-sufficiency opportunities for their public housing residents.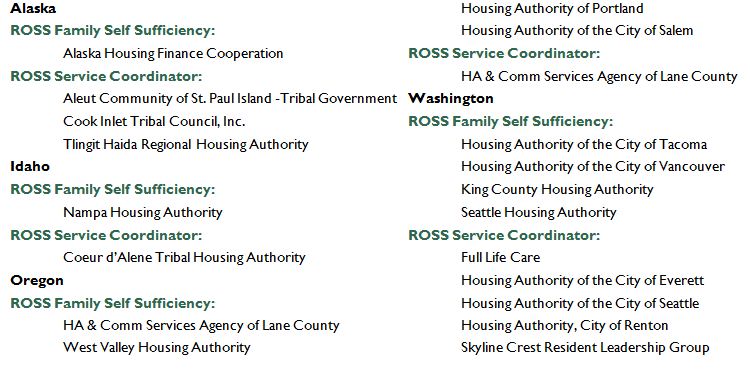 HUD-VASH Conference
On April 21, 2011 the Portland Office of Public Housing combined efforts with the Department of Veteran Affairs for the first Oregon area HUD-VASH Conference. Points of view were presented from both the HUD and VA perspectives to provide a better understanding of each agency's role in implementing the HUD-VASH program and to ensure success of the program. The event was well attended by approximately 50 representatives from HUD, the VA, and Oregon PHAs. Lively presentations were made by personnel from the VA, HUD, and PHAs sharing best practices. Panel discussions were used to identify best practices in agencies where the PHA-VA relationship is working exceptionally well. At the end of the day, breakout group discussions were also included to discuss barrier busting, problem solving and how to improve effectiveness of the program.

Eileen Devine from the Department of Veteran
Affairs explains the VA's process to hire
new case managers.

The Jackson County PHA and VA team holding a
panel discussion to talk about barriers, how to
overcome them, and best practices.
Seattle and King County Housing Authorities awarded $6.1 million in CFCF funds
$34 million were awarded to 10 public housing agencies nation-wide under HUD's competitive grant program, Capital Fund Education and Training Community Facilities (CFCF) Program. Two housing authorities in the Northwest were awarded: $3,109,271 to Seattle Housing Authority and $3,029,773 to King County Housing Authority.
The CFCF program provides capital funding to PHAs for the construction, rehabilitation, and purchase of facilities that will be used for early childhood education, adult education, and job training programs for public housing residents based on an identified need. These facilities will offer services to help public housing residents achieve better educational and economic outcomes resulting in long-term economic self-sufficiency.
The Seattle Housing Authority will allocate the entire grant amount to rehabilitate a historic steam plant located in the Yesler Terrace community, shown below. When rehabilitated, the new center will house a new Head Start program, youth tutoring, a credit union for affordable financial services, and a job training and employment opportunity center.
King County will allocate the grant between three different facilities across the region, adding education and job training centers at Firwood Circle and Burndale House in Auburn, and at the Valli Kee in Kent. Some of the business partners include YMCA, King County Work Training Program, Pug Sound Educational Services District, Green River Community College, and the Refugee Women's Alliance.
Pre-populated Unit Month Data for Operating Subsidy
For Calendar Year 2011 Operating Subsidy calculations, HUD has pre-populated form HUD-52723 with unit and unit month data. Reports for all PHAs and developments are posted on the web page for 2011 Operating Subsidy. The reports compare PIC data and data from the 2010 form HUD-52723.
Where did HUD get these numbers? Is there a PIC report we can run?
The answer is Yes. PHAs can run reports in PIC to see where these numbers were derived. The PIC Unit Status Summary Report is found in the Development sub-module, under the Reports tab. After you click Reports, select Unit Reports from the menu, and then click the dropdown box to select Status Changes Summary. This report allows one to designate the report period. Select the Reporting Period for CY 2011, which is July 1, 2009 through June 30, 2010, the 12 months ending 6 months before the beginning of CY 2011. Data can be selected as of the first of the month or as of the last of the month.
Once the report is ran, it can be downloaded into Excel, allowing easier viewing and use. Readability improves by deleting the columns with no data and by summing the months. If there are several developments, reports should be generated for each one.
Do we have to use these numbers? What if PIC is wrong?
The use of the pre-populated numbers are not required, and they could be incorrect. If any fields are altered, an explanation must be entered to justify the change. If 50058s were unable to be entered for some units, then PIC might be wrong. If some units were incorrectly identified in PIC, let the local HUD office know. If units are being disposed of, the unit month numbers probably went down. This could be the explanation for a variation from last year that requires a comment.
For questions on the PIC data, contact the local field office PIC coach. For questions on the Operating Subsidy calculations, contact field office Financial Analyst
The PHAS Interim Rule
The Public Housing Assessment System (PHAS) interim rule was published in the Federal Register on February 23, 2011. Scoring notices were also published on the same date.
Notice PIH 2011-13 provides a basic introduction to the new rule.
This page has PowerPoint presentations on NASS (including an overview of PHAS), PASS, FASS, MASS and Cap Fund. These provide helpful graphic overviews of the changes and how PHAs will be scored.
This page also has links to the Interim Rule and Scoring Notices, as published in the Federal Register.
PHAs with fiscal years ending March 31, 2011 and later will be assessed using the Interim Rule. HUD will use data available in FASS, in IMS-PIC, and in eLOCCS to determine scores.
Recently Published Guidance
PIH Notices

Notice

Title

PIH 2011-34

June 28, 2011

Extension - Continuation of Disaster Voucher Program (DVP) Housing Assistance Payments

PIH 2011-33

June 24, 2011

Use of Work Preferences as a Public Housing Waiting List Management Tool and as a Lease Provision for Certain Public Housing Buildings

PIH 2011-32

June 14, 2011

Policies and Procedures for Special Purpose Housing Choice Vouchers for Non-Elderly Disabled Families and Other Special Populations

PIH 2011-31

June 13, 2011

Guidance on non-discrimination and equal opportunity requirements for PHAs

PIH 2011-30

June 8, 2011

PHA Mortgaged Projects: Procedures for Section 30 Mortgage Transactions

PIH 2011-29

June 3, 2011

HQS Inspections for the Housing Choice Voucher Program & Guidance Related to Electrical Outlets

PIH 2011-28

May 27, 2011

Cost- Savings Measures in the Housing Choice Voucher (HCV) Program

PIH 2011-27

June 2, 2011

Implementation of the Federal Fiscal Year 2011 Funding Provisions for the Housing Choice Voucher Program

PIH 2011-26

May 25, 2011

Extension--Establishing a Micro Purchase Process for Purchases Less Than $5,000 for Indian Housing Block Grant (IHBG) Recipients

PIH 2011-25

May 30, 2011

Extension: Administrative Guidance for Effective and Mandated Use of the Enterprise Income Verification (EIV) System

PIH 2011-24

May 10, 2011

Capital Fund Program Awards

PIH 2011-23

April 28, 2011

Indian Housing Plan/Annual Performance Report Form - Form HUD-52737
- Form HUD-52737

PIH 2011-22

April 26, 2011

Promotion of Integrated Pest Management (IPM) as an environmentally-sound, economical and effective means to address a major resident concern

PIH 2011-21 (ONAP)

April 22, 2011

Line of Credit Control System/Voice Response System (LOCCS/VRS) for the Indian Housing Block Grant Program

PIH 2011-20

April 22, 2011

Extension of Notice PIH 2008-12 (HA), Enhanced Voucher Requirements for Over-housed Families

PIH 2011-19

April 22, 2011

Extension of Notice PIH 2010-11 (HA), Requests for Exception Payment Standards for Persons with Disabilities as a Reasonable Accommodation

PIH 2011-18

April 12, 2011

Asset-Repositioning Fee


Federal Register Notices

Document

Date Issued

Title

FR-5500-N-17

20110616

Notice of Web Availability: Notice of Funding Availability (NOFA) for HUD's Fiscal Year (FY) 2011 Choice Neighborhoods Initiative--Planning Grants (http://www.gpo.gov/fdsys/pkg/FR-2011-06-16/pdf/2011-14911.pdf)

FR-5489-N-02

20110510

Section 8 Housing Assistance Payments Program--Renewal Funding Annual Adjustment Factors, Fiscal Year 2011 (http://www.gpo.gov/fdsys/pkg/FR-2011-05-10/pdf/2011-11263.pdf)

FR-5374-N-29

20110429

Buy American Exceptions Under the American Recovery and Reinvestment Act of 2009 (http://www.gpo.gov/fdsys/pkg/FR-2011-04-29/pdf/2011-10460.pdf)

FR-5500-N-09

20110429

Notice of Availability: Notice of Funding Availability (NOFA) for HUD's Fiscal Year (FY) 2011 Public and Indian Housing Family Self-Sufficiency Program Under the Resident Opportunity and Self-Sufficiency (ROSS) Program (http://www.gpo.gov/fdsys/pkg/FR-2011-04-29/pdf/2011-10462.pdf)

FR-5500-N-08

20110429

Notice of Availability: Notice of Funding Availability (NOFA) for HUD's Fiscal Year (FY) 2011 Public and Indian Housing Resident Opportunity and Self-Sufficiency (ROSS)--Service Coordinators Program (http://www.gpo.gov/fdsys/pkg/FR-2011-04-29/pdf/2011-10470.pdf)

FR-5500-N-07

20110429

Notice of Availability: Notice of Funding Availability (NOFA) for HUD's Fiscal Year (FY) 2011 Housing Choice Voucher Family Self-Sufficiency Program (http://www.gpo.gov/fdsys/pkg/FR-2011-04-29/pdf/2011-10501.pdf)

FR-5413-N-02

20110420

Section 8 Housing Choice Voucher Program--Demonstration Project of Small Area Fair Market Rents in Certain Metropolitan Areas, Discussion of Comments, and Request for Participation (http://www.gpo.gov/fdsys/pkg/FR-2011-04-20/pdf/2011-9501.pdf)

FR-5094-C-07

20110412

Changes to the Public Housing Assessment System (PHAS): Management Operations Scoring Notice (http://www.gpo.gov/fdsys/pkg/FR-2011-04-12/pdf/2011-8597.pdf)


E-Memos (electronic memoranda)

Seattle HUB

Issued

Purpose

06-24-2011

Public Housing Operating Fund-Subsidy Processing: HUD-52722 Updated Version 1.42 is posted on FMD website for CY2011

06-21-2011

PHA Conference Call on CY 2011 Public Housing Subsidy Fund-Subsidy Processing.

06-16-2011

Next Tuesday, June 21 - Healthy Neighborhoods Webinar: NLM, NN/LM and Funding Application Tips

06-14-2011

Choice Neighborhoods Listening Tour

05-16-2011

Next Healthy Neighborhoods Webinar - May 24th - Natural Cures: Complementary and Alternative Medicine - Issues and Resources

05-10-2011

Applications for Funding for HCV FSS Coordinator Positions for Calendar Year 2012 - Webcast Update

05-06-2011

Applications for Funding for HCV FSS Coordinator Positions for Calendar Year 2012

04-27-2011

HUD-VASH Conference May 19, 2011

Portland FO

Issued

Purpose

06-21-2011

2012 Allocation Adjustment

06-17-2011

Remember The Seattle Tour

06-16-2011

Funding App Info & Tips: Healthy Neighborhood Webinar

06-16-2011

Job Announcements in Portland-Portfolio Manager

06-14-2011

Seattle Neighborhood Tour

06-07-2011

Income Limits Published

06-02-2011

HCVP Broadcast

05-11-2011

FSS Coordinator Funding Apps

05-05-2011

NOFA Clarification

04-26-2011

NOFAS and 2011 Scheduled Webcasts

04-25-2011

Board Training- Finance

04-25-2011

Financial Training Supplement

04-22-2011

HCV Demonstration


Important Dates

Please Note: All dates subject to change. Refer to program websites for complete list of forms due!!!


FYE 3-31 PHAs

05-31-2011

Unaudited FASS due to REAC


FYE 6-30 PHAs

08-29-2011

SEMAP Certification due

08-31-2011

Unaudited FASS due to REAC


FYE 9-30 PHAs

06-30-2011

Audited FASS for FYE 09/30/2010 due to REAC

06-30-2011

IPA Audit due to FO

07-18-2011

PHA Plan Submission


FYE 12-31 PHAs

09-30-2011

Audited FASS for FYE 12/31/2010 due to REAC

09-30-2011

IPA Audit due to FO

10-18-2011

PHA Plan Submission


All PHAs

07-22-2011

PH Operating Fund Forms due to Field Office

Monthly

CFP obligated-expended data is submitted through eLOCCS. CFP work completion activities where pre-audit is required, are reminded to submit Final P&E Reports with AMCC to Field Office.

Monthly

Send complete copy of renewal Mod Rehab program HAP contracts with owners to FMC representative. Please include Attachment A. Contracts needed to request renewal funds and to release payments.

Monthly

VMS data collection (HUD 52681B submitted electronically). Ensure data is submitted timely and accurately. Failure to report timely could result in loss of Administrative Fees. Exact submission dates will be provided by the FMC.

Reminder

Please continue to submit Year-End Settlement Statements (HUD-52681) for Section 8 Mod Rehab, SROs, and Mainstream (DV) vouchers ONLY. Submit to FMC (45 calendar days after FYE). Ninety days prior to FYB, submit complete budget (HUD-52673, 52672, 52663) for Mod Rehab, SRO, HOPE VI, Mainstream (DV code-5 year increments), to FMC representative.


ARRA

09-2011

PHAs must expend at least 60% of Competitive Grants

03-17-2012

PHAs must expend 100% of Formula Grants
####