Northwest Notes
Office of Public Housing
Region X - Alaska, Idaho, Oregon, Washington
FY2009 Quarter I - December 11, 2008
---
The Director's Corner
As we finalize our first newsletter edition this new fiscal year, HUD has issued notices in the Federal Register providing information about following: applicability of the Housing and Economic Recovery Act (HERA) of 2008 to public housing, housing choice voucher, and project based voucher programs; Changes to the Public Housing Assessment System (PHAS); and the FY 2008 Family Unification Program (FUP) NOFA. See our newsletter listing of recent Federal Register publications.
As provided in our FY 2009 Management Plan, our Hub will be conducting several comprehensive/consolidated reviews and site visits this fiscal year as part of our national goal of comprehensive monitoring and oversight of PHAs. Consolidated reviews on selected PHAs that manage 80 percent of PIH funds include Rental Integrity Monitoring (RIM), Enterprise Income Verification (EIV), Section 8 Management Assessment Program (SEMAP), and public housing Exigent Health and Safety (EH&S) spot-check reviews. We will also be conducting on-site monitoring of public housing asset management activities. Our other on-site reviews may be specific or may include an overall evaluation of a PHA's housing choice voucher and public housing programs.
On behalf of Office of Public Housing team members in the Seattle, Portland & Anchorage offices, we hope this newsletter is helpful to you. Let me know if there are items you would like to see in future newsletters.
Harlan Stewart
Director, Office of Public Housing
Region X, Northwest/Alaska Office
Marion County's Section 32:
Pathway to Successful Homeownership
Rebecca and Kip Wolfer never expected that one day they would own their own home. That dream became a reality in June of 2008.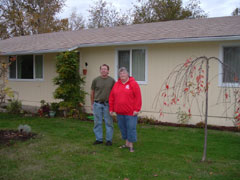 The Wolfers and their two sons moved into one of Marion County's single-family public housing units in February of 2001. The Wolfers had always wanted to own their own home but it was never within their financial means. In 2007, Marion County Housing Authority received approval from the Special Applications Center to sell 38 single-family homes through the Section 32 Homeownership program. The program allowed the Wolfers to purchase the home they were living in with a mortgage that was affordable to them. The Wolfers are very grateful for their new home. "It is a little scary-but it feels good to have our own home and be independent," the Wolfers said.
Notice of Funding Availability (NOFA) for the FY08 Family Unification Program
The NOFA announcing the availability of Family Unification Program (FUP) vouchers was published in the Federal Register on November 24. The purpose of FUP is to promote family unification by providing Housing Choice Vouchers to families where inadequate housing is a primary factor in the separation, or the threat of imminent separation, of children from their families. Youths at least 18 to 21 years old who left foster care at age 16 or older and do not have adequate housing may also be eligible under FUP. PHAs should refer to the NOFA to obtain details on submission information, as well as the FY2008 General Section published March 19, 2008 for additional requirements. Applications must be submitted via Grants.gov by the application deadline of January 28, 2009.
Notice of Funding Availability for Rental Assistance for Non-Elderly Persons with Disabilities Related to Certain Types of Section 8 Project-Based Developments and Section 202, 221(d)(3), and 236 Developments (Certain Developments)
The NOFA published in the Federal Register on November 28 announces the availability of approximately $15 million in one-year budget authority for Housing Choice Vouchers (HCV's). Vouchers under this NOFA will assist non-elderly disabled families that are not currently receiving housing assistance in certain Section 8 project-based developments due to the owner's established preferences for admission of elderly families, or in certain types of developments where the owner is restricting occupancy in the developments to elderly families. PHAs should refer to the NOFA to obtain details on submission information, as well as the FY2008 General Section published March 19, 2008 for additional requirements. Applications must be submitted via Grants.gov by the application deadline of January 30, 2009.
Notice of Funding Availability for Rental Assistance for Non-Elderly Persons with Disabilities in Support of Designated Housing Plans
The NOFA published in the Federal Register on November 28 announces the availability of approximately $15 million in one-year budget authority for Housing Choice Vouchers (HCV's) for non-elderly disabled families. The funding is expected to provide assistance to those families who would have been housed by the PHA if occupancy in a designated public housing project were not restricted to elderly households through the approval of a Designated Housing Plan. PHAs should refer to the NOFA to obtain details on submission information, as well as the FY2008 General Section published March 19, 2008 for additional requirements. Applications must be submitted via Grants.gov by the application deadline of January 30, 2009.
Notice on Streamlined PHA Five-Year and Annual Plans and Exemption for "Qualified" PHAs
On November 13, 2008, the Department issued PIH Notice 2008-41, Public Housing Agency (PHA) Five-Year and Annual Plan Process for all PHAs. The Notice provides information on:
The availability of a revised, streamlined PHA Five-Year Plan and Annual Plan template and other relevant forms;
The transition to new project numbers in the Capital Fund plans and reports, in accordance with PIH Notice 2007-28; and
The implementation of Title VII of the Housing and Economic Recovery Act of 2008 (Pub. L. 110-289, H.R. 3221) (HERA), exempting "qualified" PHAs from submitting an Annual PHA Plan.
The revised PHA Five-Year Plan and Annual Plan template will continue to serve as (a) a planning tool for PHAs; (b) a community guide to the PHA's policies, programs, and activities; and (c) facilitate the conversion to asset management, in accordance with 24 CFR Part 990, by eliminating unnecessary submission requirements.
A "qualified" PHA is one that meets the following requirements:
The sum of public housing dwelling units administered by the agency and the number of vouchers under section 8(o) of the Act is 550 or fewer, and
The agency is not designated as a troubled PHA under section 6(j)(2) and does not have a failing score under the section 8 Management Assessment Program (SEMAP) during the prior 12 months.
Effective immediately, qualified PHAs are exempt from the requirement to prepare and submit an annual PHA Plan. However, these qualified PHAs are not exempt from the requirements related to the Five-Year Plan. In addition, each qualified PHA must:
Submit the PHA Civil Rights Certification on an annual basis to the appropriate HUD Field Office, and
Must also comply with the requirements of section 5A(b)((3)(b) of section 2702 of HERA regarding resident participation and public hearings.
HUD will issue a separate notice identifying what qualified public housing agencies will need to submit in order to receive their Capital Fund Program grants.
For additional details, including the Department's scope of review of the PHA Plan, see the PIH Notice 2007-28.
REAC Inspections: Update
In January 2008, REAC Inspections were suspended due to lack of funding. In early October 2008, REAC resumed its inspections. Physical inspections are now being performed using the configurations of Asset Management Projects (AMPs). REAC contract inspectors will be contacting HA Executive Directors to schedule inspections. These calls should be directed to the person designated to schedule and confirm inspections for that particular AMP.
REAC recommends that each AMP have a point of contact that can coordinate the inspections, especially if the AMP has more than one site manager. While the inspection protocol has not changed, REAC inspectors will perform the following actions prior to the actual physical inspection: (1) visual verification of the entire AMP prior to generating the sample units; and (2) generation of property profile information for the AMP configuration that will need to be entered into the Inspection database.
How to Avoid Becoming INACTIVE in PIC
Because of a recent security review, HUD reactivated a code in PIC that sets a user's ID to INACTIVE (within PIC) if it has not been used for 90 days. This is above and beyond the inactivation of a user ID in WASS for non-use. A user could access WASS but not PIC and the WASS ID would be active, but the PIC ID becomes INACTIVE.
If a PIC account becomes INACTIVE, it will take a PHA Security Coordinator orField Office Security Coordinator to reset the account to active. Please, do not call or email the reac tac, because they cannot reset passwords. To avoid this problem altogether, PHA users should sign in at least once a month. This will keep the PIC accounts in an ACTIVE status at all times and avoid the 90-day inactivation completely.
Cost-of-Living Adjustment
On October 16, 2008, the Social Security Administration (SSA) announced 5.8 percent benefit increase for 2009. The 5.8 percent Cost-of-Living Adjustment (COLA) will begin with benefits that Social Security (SS) beneficiaries receive in January 2009. Increased payments to Supplemental Security Income (SSI) beneficiaries will begin on December 31, 2008. PHAs should include this planned increase in income during the processing of annual or interim re-exams that will be effective January 1, 2009 or later. The 2009 Social Security Fact Sheet is available online.
Regional FSS Conference, Sept. 2008
The Office of Public Housing in Seattle and Portland held its annual Family Self-Sufficiency (FSS) Coordinator Counterpart meeting on Friday, September 26, 2008 at the Vancouver PHA. The agenda followed a family through the various stages of FSS including application through their Individual Training and Services Plan (ITSP), Contract of Participation, obtaining, changing and losing jobs, increase in earned income, separation or divorce, escrow disbursements and homeownership. FSS Coordinators from PHAs throughout the Northwest region along with the Seattle and Portland HUD staff role-played various case management scenarios with HUD staff serving as the "FSS family".
There were 47 attendees from 22 PHAs (Oregon=11, WA=9, ID=2) and one from the Umatilla Indian Housing Authority. Representatives from the Seattle Office of Public Housing were Rosanne Chavez, Rebecca Tuttle, Lillian Williams and Richard Wall. Representatives from the Portland Office of Public Housing included Deborah Mann, Donna Nye and Chad Trepinski. We have received many positive comments on this year's agenda.
FSS Coordinator Counterpart meetings provide an excellent forum for networking among the Coordinators and an opportunity to exchange information and ideas.
If you have suggestions or comments on next year's workshop, which will now include Homeownership, please contact Rebecca Tuttle, Seattle Office of Public Housing at (206) 220-6422. Also, should FSS Coordinator information for a PHA change, please advise Rebecca of those changes.


Energy Conservation Corner
What is an Energy Performance Contract (EPC)? (24 CFR 965.308) It is an agreement that provides for design, acquisition, installation, testing, operation, and - where appropriate - maintenance and repair of energy conservation measures in a building or a group of buildings. EPC pertains to PHA-owned LIPH.
What is an equivalent State energy audit? (24 CFR 965.302) It is a detailed energy (and water) audit with an accompanying engineering analysis of proposed energy conservation measures (ECMs), their costs, and savings. The Energy Audit should enable detailed recommended rehab designs to be prepared for similar building types, common areas and floor plans.
What systems are typical Energy Conservation Measures (ECM)? (24 CFR 965.304) Kitchen appliances, water (toilets and other low flow fixtures) lighting systems, domestic hot water and related controls, heating, ventilation (and cooling) systems and related controls, building insulation, windows, fuel source switching, CHP (Combined Heat & Power, or cogeneration)
Lead-based Paint: Did You Know?
Lead-based Paint concerns may be brought to the attention of PHAs from a public health department or a medical health care provider. PHAs are required to report each known case of a child with Environmental Intervention Blood Lead Level (EIBLL) to the HUD Field Office using form HUD-52850 (Annual Lead-based Paint Activity Report) for pre-1978 developments in the Low-Rent Public Housing program 30 days after fiscal year end (24 CFR Part 35.1130(e)).
Additionally, reporting is also required for compliance with the HCV program regulations (24 CFR Part 35.1225(f)). See the example tool-kit at Appendix 2, PIH Guidance on the Lead-Safe Housing Rule and Lead Disclosure Rule for Field Office Guide as an illustration and complete details regarding compliance with the Lead Safe Housing Rule.
In either case, PHAs are required to file their response with your local HUD Field Office within 30 days after the end of the Federal Fiscal Year (9/30).
2009 Operating Subsidy Guide
The FMD has posted information regarding the initial funding obligation for CY 2009 for four months (through April 2009). On that webpage, the FMD included an announcement that outlines the CY 2009 utility inflation factor (9.44%), estimated CY 2009 eligibility ($5.0 billion), and estimated CY 2009 pro-ration (88%). The announcement also included the schedule for subsidy processing, which is as follows:
January 7, 2009 - Submissions due to Field Offices for PHAs with fewer than 250 units
January 23, 2009 - Submissions due to Field Offices for PHAs with 250 or more units
March 20, 2009 - Field Office processing completed and forwarded to Headquarters
April 30, 2009 - Second funding obligation completed, based on actual PHA submissions
Explanation of Initial CY 2009 Obligation, UEL Inflation Factor, Data Collection and Submission tools, and related notices are also available on our website.
Where can I get training on Asset Management?
The Asset Management (AM) web page has links to different training materials. The AM Training and Webcasts webpage offers training in the following areas:
Asset Management FASS, PH Submitting a Financial Data Schedule Preview Demonstration: This is a look at the new FASS, and how PHAs will submit FDS for several PH projects, the COCC, and the elimination column.
Asset Management Orientation for PHA Boards: This is a 2-hour PowerPoint training on the concept of Asset Management. It is meant to be an introduction for PHA staff and PHA Boards.
Changes in Financial Management and Reporting Requirements: This is training on the Supplement to Notice PIH 2007-9. It covers many changes in accounting and reporting required in Asset Management. The training is about 3 hours, but broken into 8 modules.
PIH Calculation of Operating Subsidy Treatment of New Units: This is a PowerPoint presentation from 2006 about adding new units to the operating subsidy calculations.
Calculation and Submission of Operating Subsidy Training: This is a long PowerPoint document from the 2006 training on how to fill out the new operating subsidy forms. This is very useful for anyone who did not attend the 2006 training, or wants a refresher. Remember that it talks about submitting for 2007, when you used a WAPEL, and one submission for all projects. You can skip the last 2 modules (#7- deleted units and asset repositioning, #8 - new units) unless you are deleting or adding units.
SAGIS training and documentation: We are not using SAGIS this year, so skip this training.
Frequently Asked Questions (FAQ), PH Submitting a Financial Data Schedule Pre-view Demonstration: These are questions and answers that came up at Asset management training for HUD staff. Since they would be of interest to PHAs also, they are posted on our website.
The AM Training webpage also has a link to the PIH Webcast Library. The AM Help Desk is another resource. You can call or email them with specific questions.
Requesting Modification of Public Housing Asset Management Projects
When a PHA wants to reassign buildings to a different project number for asset management they submit a "proposal" in PIC. Instructions for modifying building and unit data are located online.
Notice PIH 2007-28, issued August 27, 2007 discusses the conversion to the new project numbers. All projects have been converted from the old project numbers to the new project numbers or "AMP" numbers. (The terms "AMP", "project", and "new project number" are synonymous.)
Paragraph 5 outlines the basic requirements for further modifying the Asset Management projects. Requests must be submitted in PIC at least six months before the beginning of the PHAs fiscal year, and the change will be effective at the beginning of that fiscal year. The field office has 60 days to review the proposal and approve or deny it. Note that the effective date of the change will not coincide with the funding year unless you have a fiscal year ending 12/31. The effective date is aligned with your financial reporting period, so year-end statements have one project grouping.
The submission in PIC is in the Development sub-module, at a new "Maintain Inventory" tab. The HA user clicks "Create a Proposal" and then moves buildings from one project to another. Once the proposal is saved and submitted to HUD, the field office can begin the review.
You should notify the FO that you plan to submit a request, and notify us again when your request is submitted. You should include information on what you are doing, and why. If your request would result in two buildings with the same number you will be prompted to propose new building numbers.
After we have approved your proposal, you need to submit buildings and units for our approval. This step triggers the changes to the Operating Subsidy formulas, and adjustments to pre-populated data in your Operating Subsidy forms.
Notice PIH 2008-33, Public Housing Operating Subsidy Calculations for Calendar year (CY) 2009, reminds PHAs to update information in PIC on a regular basis. Paragraph 4 lists information that should be checked annually. Remember that anytime you change data in the Development module (except for data submitted with the 50058s) the changes are not saved to history until you have submitted, and HUD has approved this sub-module. Remember to submit any changes to your email or mailing addresses, and Executive Director contacts as soon as these are known.
If you have questions on modifying your current projects, please contact your Financial Analyst, PHRS or PIC Coach.
Public and Indian Housing Information and Resource Center (Customer Service Center)
The Nelrod Company would like to say "Thank You". It was a pleasure to serve as the contractor for the Public and Indian Housing Information and Resource Center (PIH IRC) now known as the Public and Indian Housing Customer Service Center (PIH CSC) for the last two years. Being of service to HUD Field Offices, Public Housing Agencies, and PHA residents across the country was gratifying. They wish continued success in the important mission of helping with the housing needs of our country's low-income population.
Deval, LLC is the new contractor who now operates the PIH CSC. The Toll Free Number to reach Information Specialists has not changed:
Unchanged Toll-Free Number: (800) 955-2232
The PIH CSC is open Monday through Friday from 9:00 a.m. to 5:00 p.m., Eastern Standard Time (EST) except for Federal holidays. The PIH CSC phone menu is as follows:
| | |
| --- | --- |
| Topic | Select |
| Housing Choice Voucher & Public Housing Information | 1 |
| Homeownership Program Information | 2 |
| Energy Conservation & Efficiency | 3 |
| To order HUD publications & documents or to speak to an Information Specialist | 4 |
The new mailing address, fax number, email, and mailing address for the PIH CSC are as follows:

U.S. Department of Housing and Urban Development
Public and Indian Housing Customer Service
8180 Wolftrap Road, Suite 100
Vienna, VA 22182
New Fax Number: (877) 338-2570
New Email Address: PIHIRC@deval.us
An updated product order form is available online.
Section 8 Homeownership Closings as of 09/30/2008
| | |
| --- | --- |
| State | No. of Closings |
| Alaska | 42 |
| Idaho | 91 |
| Oregon | 66 |
| Washington | 142 |
| HUB Total | 341 |
Asset Management e-Newsletter
Did you realize that the PIH Asset Management Division has published 16 newsletters already? Review past e-newsletters and learn more about activities relating to Asset Management.
Subscribe to this Newsletter
Our Northwest Notes Newsletter is intended to provide helpful information and share knowledge about Public Housing programs throughout the Northwest/Alaska Public Housing family. You can subscribe to receive this Newsletter via email, or manage an existing email subscription.
We try to publish our newsletters quarterly. If you missed any prior publication, you can access it online.
Recently Published Guidance
For a complete list of published PIH and Federal Register Notices, please visit HUDCLIPS.
PIH Notices
Notice
Issued
Purpose
PIH 2008-36
Oct. 1, 2008
This notice informs DVP administering public housing agencies (PHAs) that the DVP has been extended beyond the previously projected end date of September 30, 2008, for all pre-disaster public housing, project-based and pre-disaster homeless and special needs housing families currently receiving DVP assistance.
PIH 2008-37
Oct. 14, 2008
The purpose of this Notice is to inform those public housing agencies (PHAs) that were awarded HUD-Veterans Affairs Supportive Housing (HUD-VASH) vouchers on or after May 6, 2008 (which will further be referred to in this Notice as initial PHAs) of the reporting requirements related to this program in order to track its success. These reporting requirements, which will also apply to receiving PHAs in portability cases, are essential to the coordination of data between HUD and the Department of Veterans Affairs and to ensure that the vouchers remain available upon turnover. Public and Indian Housing Information Center (PIC) reporting requirements were initially described in sections II. f. and III. of the Implementation of the HUD-VA Supportive Housing Program (Operating Requirements) published in the Federal Register on May 6, 2008, with a correction published on May 19, 2008.
PIH 2008-38
Oct. 14, 2008
These operating requirements set forth the policies and procedures for the Disaster Housing Assistance Program-Ike (DHAP-Ike). DHAP-Ike is a HUD-FEMA initiative to provide monthly rental assistance, case management services, security deposit and utility deposit assistance for certain families displaced from their homes by Hurricanes Ike or Gustav.
PIH 2008-39
Nov. 3, 2008
This Notice announces that certain changes are being implemented in the submission and processing of data in the VMS. No changes are being made in the data that is collected.
PIH 2008-40
Nov. 4, 2008
This notice clarifies the exclusion of kinship care payments. Payments made on behalf of a related child to the tenant household are excluded from income certifications pursuant to 24 CFR 5.609(c)(2).
PIH 2008-41
Nov. 13, 2008
This Notice does the following:

Announces the availability of a revised PHA Five-Year and Annual Plan template (form HUD-50075 approved April 2008), a PHA Certifications of Compliance with the PHA Plans and Related Regulations (form HUD-50077), a revised Annual Statement/Performance and Evaluation Report (form HUD-50075.1) and a revised Capital Fund Program Five-Year Action Plan (form HUD-50075.2).
Clarifies the transition to new project numbers that took place in April of 2008 in accordance with PIH Notice 2007-28; and
Implements Title VII of the Housing and Economic Recovery Act of 2008 (Pub. L. 110-289, H.R. 3221) (HERA) which was passed by the United States Congress on July 26, 2008 and signed by President Bush on July 30, 2008.

PIH 2008-43
Dec. 3, 2008
Housing choice Voucher Portability Procedures and Corrective Actions
PIH 2008-44
Dec. 4, 2008
Verification of Social Security (SS) and Supplemental Security Income (SSI) Benefits
Federal Register Notices
| | | |
| --- | --- | --- |
| Notice | Issued | Purpose |
| FR-5235-N-01 | Sept. 3, 2008 | Statutorily Mandated Designation of Difficult Development Areas and Qualified Census Tracts for 2009 (http://edocket.access.gpo.gov/2008/pdf/E8-20322.pdf) |
| FR-5194-N-14 | Sept. 10, 2008 | Notice of Proposed Information Collection: Comment Request; Study of Capital Needs in the Public Housing Program (http://edocket.access.gpo.gov/2008/pdf/E8-21022.pdf) |
| FR-5194-N-15 | Sept. 23, 2008 | Notice of Proposed Information Collection for Public Comment for Housing Choice Voucher (HCV) Family Unification Program (FUP) (http://edocket.access.gpo.gov/2008/pdf/E8-22145.pdf) |
| FR-5223-N-02 | Sept. 29, 2008 | Final Fair Market Rents for Fiscal Year 2009 for the Housing Choice Voucher Program and Moderate Rehabilitation Single Room Occupancy Program (http://edocket.access.gpo.gov/2008/pdf/E8-22793.pdf) |
| FR-5130-N-27 | Oct. 6, 2008 | Privacy Act; Notification of an Amendment to an Existing Privacy Act System of Records; Inventory Management System (IMS) (Formerly- The Public and Indian Housing Information Center (PIC)) (http://edocket.access.gpo.gov/2008/pdf/E8-23473.pdf) |
| FR-5187-N-56 | Oct. 6, 2008 | Moving to Work Demonstration (http://edocket.access.gpo.gov/2008/pdf/E8-23459.pdf) |
| FR-5057-I-01 | Oct. 16, 2008 | Public Housing Operating Fund Program; Increased Terms of Energy Performance Contracts (http://edocket.access.gpo.gov/2008/pdf/E8-24573.pdf) |
| FR-5127-F-02 | Oct. 27, 2008 | Pet Ownership for the Elderly and Persons With Disabilities (http://edocket.access.gpo.gov/2008/pdf/E8-24573.pdf) |
| FR-5223-C-03 | Oct. 28, 2008 | Final Fair Market Rents for Fiscal Year 2009 for the Housing Choice Voucher Program and Moderate Rehabilitation Single Room Occupancy Program: Technical Correction (http://edocket.access.gpo.gov/2008/pdf/E8-25570.pdf) |
| DN-5263-N-01 | Nov. 10, 2008 | Notice of Certain Operating Cost Adjustment Factors for 2009 (http://edocket.access.gpo.gov/2008/pdf/E8-26655.pdf) |
| FR-5159-FA-01 | Nov. 10, 2008 | Announcement of Funding Awards for the Public Housing Neighborhood Networks Program for Fiscal Year 2007 (http://edocket.access.gpo.gov/2008/pdf/E8-26659.pdf) |
| FR-5100-FA-17 | Nov. 10, 2008 | Announcement of Funding Awards for the Resident Opportunity and Self- Sufficiency (ROSS)-Elderly and Persons with Disabilities for Fiscal Year 2007 (http://edocket.access.gpo.gov/2008/pdf/E8-26658.pdf) |
| FR-5100-FA-18 | Nov. 10, 2008 | Announcement of Funding Awards for the Resident Opportunity and Self- Sufficiency (ROSS)-Family and Homeownership Program for Fiscal Year 2007 (http://edocket.access.gpo.gov/2008/pdf/E8-26657.pdf) |
| FR-5187-N-61 | Nov. 14, 2008 | Public Housing Capital Fund Program (http://edocket.access.gpo.gov/2008/pdf/E8-27129.pdf) |
| FR-5242-N-01 | Nov. 24, 2008 | The Housing and Economic Recovery Act of 2008 Applicability to HUD Public Housing, Section 8 Tenant-Based Voucher and Section 8 Project-Based Voucher Programs (http://edocket.access.gpo.gov/2008/pdf/E8-27871.pdf) |
| FR-5233-N-01 | Nov. 24, 2008 | Notice of Funding Availability for Fiscal Year (FY) 2008 Family Unification Program (FUP) (http://edocket.access.gpo.gov/2008/pdf/E8-27873.pdf) |
| FR-5094-N-02 | Nov. 24, 2008 | Public Housing Evaluation and Oversight: Changes to the Public Housing Assessment System (PHAS) and Determining and Remedying Substantial Default: Reopening of Public Comment Period (http://edocket.access.gpo.gov/2008/pdf/E8-27807.pdf) |
| FR-5228-N-01 | Nov. 28, 2008 | Notice of Funding Availability (NOFA) for Rental Assistance for Non-Elderly Persons With Disabilities in Support of Designated Housing Plans (http://edocket.access.gpo.gov/2008/pdf/E8-28234.pdf) |
| FR-5229-N-01 | Nov. 28, 2008 | Notice of Funding Availability (NOFA) for Rental Assistance for Non-Elderly Persons With Disabilities Related to Certain Types of Section 8 Project- Based Developments and Sections 202, 221(d)(3), and 236 Developments (Certain Developments) (http://edocket.access.gpo.gov/2008/pdf/E8-28237.pdf) |
| FR-5056-I-01 | Nov. 28, 2008 | HUD Programs: Violence Against Women Act Conforming Amendments (http://edocket.access.gpo.gov/2008/pdf/E8-28235.pdf) |
E-Memos (electronic memoranda)
| | | |
| --- | --- | --- |
| Seattle HUB | Issued | Purpose |
| Seattle HUB | Sept. 24, 2008 | Public Housing FY 2008 Quarter IV Newsletter |
| Seattle HUB | Sept. 25, 2008 | Operating Fund Program CY2008 Final Funding Supporting Documents |
| Seattle HUB | Sept. 29, 2008 | FY 2009 Fair Market Rents (FMRs) |
| Seattle HUB | Sept. 30, 2008 | Accessibility Requirements |
| Seattle HUB | Oct. 22, 2008 | Changes in Staff & Assignments |
| Seattle HUB | Nov. 12, 2008 | CY 2009 Operating Subsidy Processing - Guidance and Initial Funding Obligation |
| Seattle HUB | Nov. 25, 2008 | Enterprise Income Verification (EIV) System and Security Awareness Training Opportunity |
| Seattle HUB | Dec. 2, 2008 | Rental Assistance Notices of Funding Availability (NOFAs) |
| Seattle HUB | Dec. 3, 2008 | Form HUD-2516 Minority Business Enterprise (MBE) Reports (Applies to Public Housing) |
| Portland FO | Issued | Purpose |
| Portland FO | Sept. 25, 2008 | Operating Fund Program CY2008 Final Funding Supporting Documents |
| Portland FO | Sept. 29, 2008 | FY 2009 Fair Market Rents (FMRs) published in Federal Register |
| Portland FO | Sept. 30, 2008 | Accessibility Requirements |
| Portland FO | Oct. 16, 2008 | Asset Management Project Modification Requests |
| Portland FO | Oct. 21, 2008 | Reminder of Requirements for Annual Audits |
| Portland FO | Nov. 25, 2008 | Enterprise Income Verification (EIV) System and Security Awareness Training Opportunity |
| Portland FO | Dec. 2, 2008 | FormHUD-2516 - 2008 Minority Business Enterprise (MBE) Reports |
| Portland FO | Dec. 2, 2008 | Three Rental Assistance Notices of Funding Availability (NOFAs) |
####