January 2008 Region III News
News and information from HUD's Regional Office serving Delaware, District of Columbia, Maryland, Pennsylvania, Virginia, West Virginia
John G. Bravacos, Regional Director
(215) 656-0600
January 2008

REGIONAL DIRECTOR'S NOTE
Happy New Year!



As we welcome 2008, I want to extend our very best wishes to our partners and customers for a wonderful and prosperous New Year. On behalf of our HUD family, we value our partnership with you and we look forward to new opportunities in 2008 to work together to make our community a better place to live and work.

In this first newsletter of the new year, we provide the latest HUD announcements and we share a few stories about lives transformed by the work we do together to serve citizens throughout Delaware, Maryland, Pennsylvania, Virginia, West Virginia and the District of Columbia, our Region III.

We want you to know that we're committed to helping you help others. As public servants, it is our duty to listen, think then act, then evaluate and repeat the process, focusing on our common goals. I ask that you let me and my staff know what we can do to help you to accomplish your goals as they compliment our mission of increasing homeownership, creating affordable housing opportunities and supporting the homeless, elderly, people with disabilities and people living with AIDS, while we continue to promote economic and community development and enforce the nation's fair housing laws.

It is our hope that we will accomplish even greater things together in this new year and leave a legacy of lives transformed across this great region.

John Bravacos
GETTING THE LEAD OUT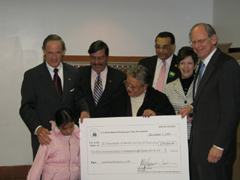 US Senator Tom Carper; Dr. Jaime Rivera, Director, DE Public Health; Maria Matos, ED, Latin American Community Center; Mayor James Baker, Wilmington; Diane L. Lello, Wilmington Field Office Director, US Congressman Michael Castle. The child is a program beneficiary.

HUD is investing more than $12 million in Region III to protect children from dangerous lead-based paint. A $2.9 million dollar grant was delivered to the state of Delaware to continue its efforts to reduce or eliminate lead exposure in 246 homes in high risk communities over the three year grant period. Lead is a known toxin that can impair children's development and may even cause death at high levels.
"We are making our homes safer and healthier places in which to raise our children," said HUD Wilmington Field Office Director, Diane L. Lello.
Adelaida Rios and her two young children are grateful for HUD's commitment to lead removal. Thanks to the Delaware program, housed in the Latin American Community Center, Rios has had the lead removed from her home and is happy that her children are healthy. Those same sentiments were expressed by Harrisburg resident Monica Gallman and her son Jameer. Her son had high levels of lead in his blood but after HUD monies were used to remove the lead based paint from her home, she's happy to report that her son's lead levels are normal.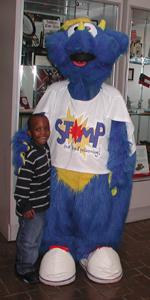 Jameer Gallman and STOMP mascot



Jameer posed with Harrisburg's lead hazard program mascot, STOMP, at a December 12th press conference. HUD Regional Director John Bravacos presented Harrisburg Mayor Stephen R. Reed with a $2.1 million grant check to perform lead hazard control in 140 housing units in the City. STOMP visits area schools to educate children and their parents about the hazards lead poses. The City of Baltimore received a $3.8 million grant for lead hazard control and remediation. The District of Columbia's Alliance for

Harrisburg Mayor Stephen R. Reed, STOMP, and Regional Director John Bravacos



Healthy Homes and Housing Counseling Services, Inc. received a $413,000 grant and $400,000 grant respectively. The City of Erie, Pennsylvania was also awarded $3 million to get the lead out of their fair city.



CHANGE A LIGHT, CHANGE THE WORLD
Twin Towers in the Pittsburgh suburb, Mt. Lebanon, is leading the way in the ENERGY STAR Change a Light, Change the World Campaign. Seniors living in the HUD insured residence are replacing an ordinary light bulb with the ENERGY STAR compact fluorescent light bulb.
"We congratulate Twin Towers and Crossgates Management, Inc., for taking the ENERGY STAR Change a Light pledge, and encouraging, by their example, other senior citizens, building owners and managers in the Region to do the same," said Regional Director John Bravacos.
Crossgates Management, Inc., of McMurray, Pennsylvania donated 2, 224 compact fluorescent light bulbs to senior citizens living in apartment complexes in three states where they manage properties including another HUD insured residence, the G.W. Petroplus Towers in Wheeling, West Virginia.
Crossgates Management, Inc. estimates that Twin Towers will save about $3000 per year by changing just one light bulb in each of its 115 units in Mt. Lebanon and $4100 per year by changing just one light bulb in each of its 160 units in Wheeling.
"These bulbs pay for themselves in energy cost savings in just over a year's time," said Crossgates Vice President Reid Howe. "That kind of efficiency is critically important at a time of shrinking resources."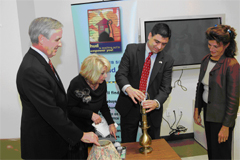 Celebrating the change to compact fluorescent light bulbs at Casa Farnese are, from the left, James McGrath, President of PRD Management, Inc.; Elaine Shorr, Casa Farnese Manager; John Bravacos, HUD Regional Director; and Darlene Messina, City of Philadelphia's Coordinator for Environmental and Urban Sustainability Initiatives.



Casa Farnese, a HUD insured residence for low-income senior citizens in Philadelphia is also changing two light bulbs in each of its 288 units for an estimated savings of $5300 in one year. The local utility company, PECO, and Phillips Lighting donated the bulbs and the City of Philadelphia continues to promote energy conservation through the ENERGY STAR Change a Light, Change the World Campaign.

The Campaign urges Americans to change a light in their home to a more energy efficient one as an important step to save energy, save money and protect our environment. http://www.energystar.gov/



A FIRST FOR THE STATE OF WEST VIRGINIA
The Northern West Virginia Center for Independent Living, a disability resource center in Morgantown, became the first organization in the State to receive a grant through HUD's Fair Housing Initiatives Program.

HUD's Assistant Secretary of the Office of Fair Housing and Equal Opportunity Kim Kendrick delivered a $99,976 check to NWVCIL Executive Director Jan Derry in November.

Pictured from left to right are Special Assistant to the HUD Regional Director Elvis Solivan, HUD's FHEO HUB Director Wanda Nieves, HUD's West Virginia Field Office Director Pete Minter, HUD FHEO Assistant Secretary Kim Kendrick, and NWVCIL Executive Director Jan Derry.

NWVCIL will use its grant monies to partner with local human rights commissions to conduct fair housing workshops, author fair housing articles in organizational newsletters, and launch a statewide fair housing media campaign. In addition, NWVCIL will conduct research on housing discrimination against persons with disabilities, collect data on the availability of accessible housing in West Virginia, and assist alleged victims of discrimination with filing complaints with HUD.
Kendrick noted that people in wheelchairs often experience discrimination when looking for rental properties. She says more must be done to provide housing accommodations that meet the needs of disabled individuals.
"It is clear that wheelchair users face more obstacles," Kendrick said. "HUD is stepping up its efforts to take action against anyone in violation of the law."
Derry appealed to housing developers to provide safe and accessible housing for people with disabilities. "People with disabilities have assets they can contribute to the community, said Derry. "Open your doors, open your hearts, and build accessible communities."
AVOIDING FORECLOSURE
2008 could represent a new beginning for families at risk for foreclosure. HUD is offering FHASecure as a safe and affordable mortgage option for families who want to refinance their subprime or other private loans. FHASecure is geared to those who have a history of on-time mortgage payments under their original interest rates, but missed payments after their rates reset, to refinance into FHA's mortgage insurance program. More than 33,000 have already refinanced their subprime home loans with FHASecure, a government-insured foreclosure avoidance initiative created in September.
And thousands more are in the pipeline for approval bringing the total to more than 53,000 in a four month period. If you know someone facing foreclosure, have them call 1-800-CALLFHA for more about a program that could help them keep their home. FHASecure is expected to help up to 240,000 families avoid foreclosure.
If you are an at-risk homebuyer or know someone who is, the best way to find out if FHASecure works for you is to contact a local HUD approved housing counseling agency or visit www.fha.gov. Lisa Brown of Dover, Delaware can appreciate what a HUD approved housing counseling agency can do for you.
CONSPIRING TO CARE
"If good intentions could cure homelessness," Philip Mangano of the U.S. Interagency Council on Homelessness recently told an audience in Huntington, West Virginia celebrating the opening of a new transitional housing facility for the homeless in Huntington, West Virginia, "we could have eliminated it long ago."
As demonstrated in Huntington, these days there's obviously much more than just intentions at work and, for that matter, behind the results reported in a HUD study that, "for the first time ever," reported a nearly 12 percent decrease in the number of chronically homeless persons living on the nation's streets."
To continue that momentum, HUD just announced more than $168 million in homeless grants to Region III encompassing Delaware, Maryland, Pennsylvania, Virginia, West Virginia and the District of Columbia. The monies will support the full spectrum or "continuum of care" for homeless individuals and families - from street outreach and emergency shelter to transitional and permanent housing. In addition, the funding provides for critically needed services including job training, child care, substance abuse treatment and mental health. Visit our website for a detailed local summary of the project awards. Nationally, HUD is awarding a record $1.5 billion to nearly 6,000 local housing and service programs and anticipates awarding $1.6 billion, another record funding level, next year.
"Homelessness is not a seasonal problem; it's a tragedy being played out on our streets and in our shelters every day," said Regional Director John Bravacos. "We hope these grants will provide the resources needed for our partners who are working on the front lines to help end the despair of homelessness for our most vulnerable citizens."
With HUD funds, help for the homeless is underway in Huntington, Philadelphia and Virginia Beach.
ROUND THE REGION
First Lady Laura Bush and Interior Secretary Dirk Kempthorne announce Preserve America grants to cities of Frederick (http://www.preserveamerica.gov/mdfrederick.html) and Baltimore (http://www.preserveamerica.gov/mdbaltimore.html) in Maryland, Washington County in Pennsylvania and State historic preservation offices in West Virginia and Maryland aimed at "restoring citizens' pride in their communities and safeguarding our national treasures"...The City of Philadelphia earns the distinction of a Preserve America Community designation making it eligible to apply for Preserve America grants…West Virginia Governor Joe Manchin presents Distinguished West Virginian Award to Julia Johnson of the Boone County Housing & Redevelopment Authority...Baltimore Sun reports that Arundel House of Hope in Glen Burnie is offering 40, free voice mail boxes to its homeless clients so potential employers have a way to get in touch with them... Saying make "homes safer and healthier places in which to raise our nation's children," HUD Secretary Jackson announces almost $12.9 million in lead hazard reduction grants to state and local governments in Delaware, Maryland, Pennsylvania and the District of Columbia...Pathway Homes, Inc., a HUD-funded organization in Fairfax County, Virginia, providing supportive housing to more than 300 mentally-ill adults, named Best Housing Organization in State at 2007 Governor's Housing Conference in Roanoke...Joseph J. Murin of Collier, Pennsylvania nominated to head Government National Mortgage Association - Ginnie Mae - one of the nation's major secondary mortgage agencies...Washington Post reports Fairfax County, Virginia ribbon-cutting for 24-bedroom shelter - the first its opened in 20 years - in Centreville so that it can "keep families together so that they can get back on their feet"...Department of the Treasury's Community Development Financial Institutions program awards total of $185 million in New Markets Tax Credits to PIDC Regional Development Corporation in Philadelphia, Norfolk Redevelopment & Housing and Urban Action Community Development in Baltimore...Allegheny County Housing Authority's Frank Aggazio named Member of the Year by Pennsylvania Association of Housing and Redevelopment Authorities...Delaware HIV Consortium, Health Care for the Homeless in Baltimore and West Virginia Office of Economic Opportunity among just 31 programs to win competitive HUD Housing Opportunities for Persons with AIDS grants...Delaware Community Reinvestment Action Council, Fair Housing Council of Montgomery County, Pennsylvania, Fair Housing Partnership of Greater Pittsburgh, Fair Housing Council of Suburban Philadelphia, Southwestern Penn Legal Services, Housing Opportunities Made Equal of Virginia and the Northern West Virginia Center for Independent Living win 2007 HUD Fair Housing Initiatives Program grants…The Affordable Housing Finance publication lauded Delaware's Village of Eastlake as the nation's BEST affordable homeownership development for its positive community impact, outstanding social services and substantially below-market home prices ..Philadelphia Housing Authority announces plans for its first "totally green" housing complex, a $23.4 million, 64-unit complex for the elderly that includes, said AP, "a green roof with natural vegetation."
SAVE THESE DATES
Virginia Association of Housing & Community Development Officials (www.vahcdo.org/) holds winter meeting in Richmond February 24th through the 26th...Federal Reserve Bank of Philadelphia hosts conference on Reinventing Older Communities: How Does Place Matter? March 26th to 28th in Philadelphia...Pennsylvania Association of REALTORS hosts 2nd annual New Business Opportunities in the Hispanic Market Conference in Atlantic City January 23rd and 24th...Green Roofs for Healthy Cities and the City of Baltimore are co-hosting the 6th Annual International Greening Rooftops for Sustainable Communities Conference, Awards and Trade Show at the Baltimore Convention Center and Sheraton Inner Harbor Hotel April 30, May 1 and 2nd, in Baltimore.
LAST WORD
Read our newest Philadelphia Multifamily Hub Newsletter.
SUBSCRIBE TODAY
If you would like to receive this newsletter via email when it is published, please sign up by visiting our subscription management page.