Nashville, Tennessee Promotes Affordable Housing and Minority Homeownership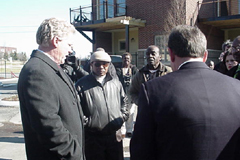 Affordable Housing Resource Director Ed Latimer (on left) explains his agency's role during walking tour.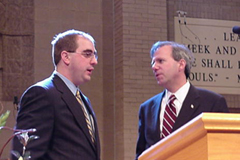 HUD Regional Director Brian Noyes (on left) and Nashville Mayor Bill Purcell at Fifteenth Avenue Baptist Church
HUD Southeast Director Brian Noyes, Nashville Mayor Bill Purcell, and National Association of Home Builders (NAHB) President Kent Conine highlighted affordable housing in Nashville, Tennessee. Affordable housing partners had a special day in Nashville on February 4, 2003, during a walk-through of new housing in downtown Nashville. Brian Noyes, Mayor Purcell, and Kent Conine toured new housing under construction and met with partners of federal, state, and local governments, as well as local affordable housing agencies. The Nashville Homebuilders Association, Affordable Housing Resources Agency, and other non-profit agencies were participants.
After a walking tour of the redevelopment in progress, hundreds gathered at the Fifteenth Avenue Baptist Church where Rev. William Buchanan is the Pastor. Nashville Mayor Purcell, NAHB President Conine, and other community leaders discussed how the partnership developed and expressed their commitment to increasing minority homeownership. Regional Director Noyes outlined, in his remarks, the President and Secretary's Initiatives to commit resources toward increasing affordable homeownership in our country and helping to fulfill the "American Dream." Regional Director Noyes was joined by two of his Tennessee Field Office Directors, Edward Pringle, Nashville Field Office Director, and Yvonne Leander, Memphis Field Office Director.
HUD Secretary Mel Martinez, speaking to attendees by telephone, promised HUD's continued support for local affordable housing and community development initiatives. Private sector affordable housing advocates were well represented during the event, and included banks, mortgage lenders and homeless-related service agencies.
"What makes Nashville unique is the blend of different revenue sources, different resource streams, and the continued support of local advocates who believe in promoting homeownership," said Edward Pringle, Nashville HUD Director.
| | | |
| --- | --- | --- |
| Attendees gathered at Fifteenth Avenue Baptist Church. | | Featured speakers and homebuyers. |