Anti-Gang Program A Success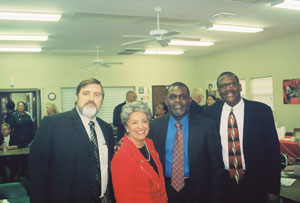 (l to r) Robert Jones, Special Agent in Charge, OIG Houston; Pat Lykos, District Attorney, Harris County; Edward Pringle, Houston Field Office Director, and Raynold Richardson, Director, Multifamily Housing.

A celebration was held at Haverstock Hills Apartments by the owner, Equality Community Housing Corporation, on December 13, 2011, to recognize the efforts accomplished in reducing the presence of criminal activity in the area. The event was located onsite at the Haverstock Paggi Community Center at 5619 Aldine Bender, Houston, TX.
One year ago, Harris County District Attorney Patricia Lykos made history by filing the first-ever civil injunction against gang activity in Harris County. The injunction created a 57-acre "safety zone" that encompassed the HUD Section 8 subsidized 700-unit Haverstock Hills Apartments, the neighboring elementary school and local businesses.
The District Attorney's office, in collaboration with the Harris County's Sheriff's office, Harris County Judge's office, and special attorney Kim Ogg, have successfully prosecuted those individuals named in the injunction, creating a safer community for the County's residents. Results from the enforcement include reductions in other criminal activity such as drug dealing, robberies and violent behavior. Haverstock Hills' statistics show that the number of monthly service calls is now comparable with much smaller communities, of less than 200 units, in the Houston market. Collection of data reflects a 67% reduction in calls for service.
The December 13th celebration event was opened by Flynann Janisse, Executive Director, Rainbow Housing Assistance Corporation, thanking all of the partners involved in this effort. The many collaborative partners included the Harris County District Attorney's Office, Harris County Sheriff's Office, Judge Emmitt's office (special representative, Wanda LeBlanc), Houston HUD Multifamily Housing Program Center, J. Allen Management Company, Aldine Bender School District; Attorney General's Office, Houston Apartment Association, Attorney Kim Ogg, local management companies, faith-based organizations, various law enforcement agencies, local businesses, congressional leaders and community leaders.
The HUD Multifamily Housing Program Center actively supported this effort by obtaining a HUD waiver of the "10-day rule" notice of eviction before court proceedings. The rule was reduced from 10 days to one (1) day in order to assist in eliminating resident gang members. In addition, HUD representatives met on a monthly basis with ownership and property management, law enforcement and county officials to discuss methods for improving living conditions at the property.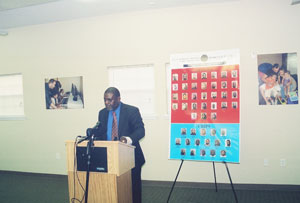 Edward Pringle, Houston Field Office Director, speaks at ceremony.

At the event, Dr. Edward L. Pringle, HUD Houston Field Office Director, joined the other event speakers in thanking all the collaborative partners for their involvement and offered HUD's continued commitment to the initiative.
Others participating HUD representatives from the Houston HUD Office included Raynold Richardson, Director, Multifamily Housing; Willo Wortham, Project Manager, and Mary Frances Byrd, Housing Management Specialist.
Media coverage:
Miya Shay, a reporter for ABC 13 filed this report titled: "Anti-gang program labeled a success (http://abclocal.go.com/ktrk/story?section=news/crime_tracker&id=8465468)" (article and video)

The Houston Chronicle's Brian Rogers wrote this piece following the event and after having talked directly with some residents: "Most Dangerous' Apartments Now Safe (http://www.chron.com/default/article/Most-dangerous-apartments-now-safe-2403799.php#photo-1937407)" (article and photos)

Bill Stamps from KUHF 88.7PM spoke with Executive Director Flynann Janise after the press event for this on-air piece: "Apartment Complex Says Goodbye to Gangs (http://app1.kuhf.org/articles/1323796868-Apartment-Complex-Says-Goodbye-To-Gangs.html)" (article and audio)
###