HUD No. 00-348
Further Information:
For Release
In the Washington, DC area: 202/708-0685
Thursday
Or contact your local HUD office
December 14, 2000
Housing Vouchers
*A PDF Reader is necessary to view these files.
PDF reader options for the visually impaired.
---
HUD RELEASES 80,000 MORE HOUSING VOUCHERS

WASHINGTON - U.S. Housing and Urban Development Secretary Andrew Cuomo today had good news for the nation's low-income renters when he announced that HUD is making available to public housing authorities funds for an estimated 80,000 additional Section 8 rental assistance vouchers.
During Cuomo's three years as HUD Secretary, the Administration has prevailed on Congress to fund some 190,000 additional vouchers more than the 1.3 million average funded each year. From fiscal years 1994 through 1998, Congress did not appropriate funds for any additional vouchers. (Chart shows additional vouchers in thousands; baseline equals about 1.3 million.)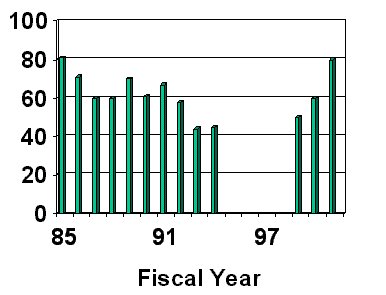 "Our best estimates show that more than 5.4 million American families need housing assistance," Cuomo said. "And thanks to the continual support of the White House, Congress has heard our pleas, reversed gears and acted to meet the pressing need for more assistance vouchers. More needs to be done, however, to address the nation's need for affordable housing."With the help of the vouchers, eligible low-income families spend no more than 30 percent of their monthly income for rent. And thanks to legislation passed early this year, public housing authorities now can permit the vouchers to be used to help purchase homes. The December 13 Federal Register outlines the procedures that will be used to distribute the $453 million for additional vouchers. Each of the 50 states, the District of Columbia, Puerto Rico, the Virgin Islands and the Pacific Islands will receive their "fair share" of vouchers, ranging from 11,176 in California to 105 in Wyoming.Public housing authorities will compete for the vouchers, with applications due at HUD headquarters in Washington, DC, by January 29, 2001.Because the demand for vouchers is expected to exceed the supply, applications will be evaluated and ranked by HUD according to the number of very low-income renters with severe rent burdens, efforts by housing authorities to promote area-wide housing opportunities for families, and the numbers of disabled families or Medicaid-eligible individuals served by the authorities who are at risk of being institutionalized.No housing authority will receive more than 25 percent of the vouchers it normally receives, nor will any housing authority receive more than 25 percent of all additional vouchers awarded to its state. If applications from one state seek less vouchers than the number allocated to it, the balance will be reallocated to other states.
Additional details regarding the announcement are in the December 13 Federal Register or on HUD's website at www.hud.gov
##