HUD No. 03-140
Brian Sullivan
(202) 708-0685 x7527

For Release
Tuesday
December 16, 2003
---
BUSH SIGNS AMERICAN DREAM DOWNPAYMENT ACT
$200 million program will help tens of thousands of low-income families to become homeowners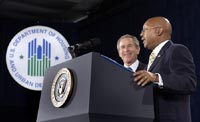 Acting Secretary Alphonso Jackson makes some remarks just before President Bush signed the American Dream Downpayment Act.


WASHINGTON - There is a reason why many American families can't buy their first home - they can't afford the downpayment and other upfront closing costs required to qualify for a mortgage. For as many as 40,000 low-income families, that will change as President Bush today signed The American Dream Downpayment Act into law.
Applauding Congress for authorizing the annual $200 million downpayment assistance program, Bush and Housing and Urban Development Acting Secretary Alphonso Jackson said the initiative will also help meet the Administration's "Homeownership Challenge" to increase minority homeownership by 5.5 million families by the end of the decade.
"Today we are taking action to bring many thousands of Americans closer to the great goal of owning a home," said President Bush. "These funds will help American families achieve their goals, strengthen our communities, and our entire nation."
"This is a good day for thousands of families who have only dreamed about sharing in the American Dream of homeownership," said Jackson. "Not only will this law allow thousands of hard-working Americans to unlock the door to homeownership, it will also help close the gap that separates minority households from the rest of the country when it comes to owning a home to call their own."
High downpayment and closing costs represent the most significant barrier to homeownership for first-time homebuyers. The American Dream Downpayment Act will provide a maximum downpayment assistance grant of either $10,000 or six percent of the purchase price of the home, whichever is greater. In addition, the Bush Administration is committed to reforming the homebuying process that would lower closing costs by approximately $700 per loan, further stimulating homeownership for all Americans.
The American Dream Downpayment Act will be administered under HUD's HOME Investment Partnerships Program (HOME). Since its inception, the HOME Program has played a vital role in addressing the shortages of affordable rental housing and homeownership in communities nationwide. Information about the American Dream Downpayment Act is available on the Internet.
Last year HUD released a report that concludes adding 5.5 million minority homeowners will stimulate an additional $256 billion in benefits to the housing sector of the U.S. economy. In addition, HUD created The Blueprint for the American Dream Partnership, a coalition involving every segment of the housing industry to build broad-based support of the President's goal of increasing homeownership opportunities for minority families.
HUD is the nation's housing agency committed to increasing homeownership, particularly among minorities; creating affordable housing opportunities for low-income Americans; and, supporting the homeless, elderly, people with disabilities and people living with AIDS. The Department also promotes economic and community development as well as enforces the nation's fair housing laws. More information about HUD and its programs is available on the Internet and espanol.hud.gov.
###