HUD No. 05-026
Brian Sullivan
(202) 708-0685

For Release
Thursday
March 10, 2005
---
JACKSON ANNOUNCES NEW AFFORDABLE COMMUNITIES AWARD TO BE NAMED IN MEMORY OF ROBERT L. WOODSON, JR.
HUD's late Chief of Staff devoted his life to expanding housing opportunities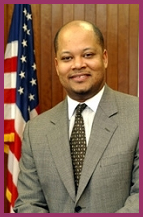 Robert L. "Rob" Woodson, Jr. (1963-2003)
WASHINGTON - Robert L. Woodson, Jr.'s reputation at the Department of Housing and Urban Development endures as a fun-loving chief of staff with a fierce and passionate devotion to expanding housing opportunities for all Americans. Today, Housing and Urban Development Secretary Alphonso Jackson announced he is dedicating the Department's prestigious new Affordable Communities Awards program in memory of a national housing policy expert everyone simply called "Rob."
"Rob's smile lit up this Department and his dedication to opening the doors of opportunity to everyone ran deep," said Jackson. "There is no better person who embodies the spirit of the American Dream and the new Affordable Communities Award than Rob."
Michelle Woodson said, "It's truly an honor to have this prestigious award named after my late husband, Rob. He understood the importance of addressing affordable housing. I commend President Bush and Secretary Jackson for their continued commitment to helping America's communities."
The Robert L. Woodson, Jr. Award
The Robert L. Woodson Jr. Award will recognize local governments for reducing regulatory barriers to affordable housing. HUD is currently accepting nominations and intends to recognize local governments for their outstanding work to encourage the production of homes affordable to working families. The deadline for applications is March 15 th.
Interested individuals or groups may nominate either a State or local government that has demonstrated extraordinary achievements in eliminating regulatory barriers to housing affordability. State and local governments may also nominate themselves or other local units of government for awards. For a detailed description of the nomination and selection process, visit affordablecommunities.
Prior to coming to HUD and serving as the Department's Chief of Staff in 2002, Woodson served as Senior Policy Advisor on housing and community development issues for President Bush's campaign for president in Austin, TX. He was a senior aide to Sen. Kay Bailey Hutchison (Texas) on matters of tax law, budget, and housing and community development issues. Woodson also served as Chief of Staff for Rep. Bob Inglis (South Carolina) as well as budget analyst for the House Budget Committee.
Woodson worked to help low-income persons achieve economic self-sufficiency as a project director and spokesperson for the National Center for Neighborhood Enterprise, a national organization that helps community- and faith-based groups reduce crime and violence, revitalize low-income neighborhoods and create economic enterprise.
A graduate of the University of Delaware, Woodson's received a B.A. in Sociology with a concentration in urban studies.
HUD is the nation's housing agency committed to increasing homeownership, particularly among minorities; creating affordable housing opportunities for low-income Americans; and supporting the homeless, elderly, people with disabilities and people living with AIDS. The Department also promotes economic and community development as well as enforces the nation's fair housing laws. More information about HUD and its programs is available on the Internet and espanol.hud.gov.