HUD No. 05-124
Brian Sullivan
202-708-0685

For Release
Tuesday
September 13, 2005
---
HUD GRANTING ADMINISTRATIVE LEAVE FOR EMPLOYEES SEEKING TO VOLUNTEER FOR DISASTER RELIEF
HUD employees seeking to give of themselves in the wake of Hurricane Katrina
WASHINGTON - The Department of Housing and Urban Development today announced it is permitting its employees to take administrative leave to volunteer for nonprofit services, like those helping displaced families forced from their homes following Hurricane Katrina. HUD Deputy Secretary Roy A. Bernardi and representatives of the American Federation of Government Employees (AFGE) announced the new leave policy that allows supervisors to approve certain volunteer requests from employees seeking to help charitable organizations.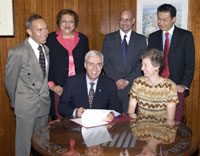 Standing (L to R): Eddie Eitches, President AFGE local 476; Barbara Edwards, Office of Administration; Tim Oravec, Albany Field Office & volunteer fire fighter; Jason Chang, HUD volunteer. Seated: Deputy Secretary Roy A. Bernardi; Carolyn Federoff, President AFGE Council 222.
Under an agreement between the Department and AFGE, HUD supervisors may approve administrative leave, without loss of pay, for employees who have expressed a desire to help nonprofit charitable organizations, especially in the wake of Hurricane Katrina. HUD staff will now be able to request administrative leave for an average of eight hours a month over a 12-month period. Employees must first seek advanced written approval from their supervisors and the volunteer activity must support not-for-profit efforts that are consistent with HUD's own mission.
"This agreement speaks to how deeply committed the HUD family is when it comes to giving of themselves," said Bernardi. "So many of our employees are answering the call to volunteer during this time of great need and we want to do everything we can to encourage this spirit of giving."
Carolyn Federoff, President of AFGE Council 222 said, "HUD employees are construction analysts, engineers, and environmental officers. This policy will encourage our employees to donate even more of their time and skills towards the huge efforts that will be necessary to rebuild our communities over the next months and years."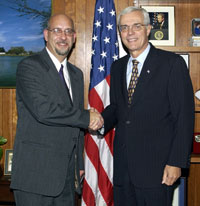 Tim Oravec, Albany Field Office and Deputy Secretary Roy A. Bernardi.
Tim Oravec is a HUD employee who works for the Department's field office in Albany, New York and also serves as a volunteer fire fighter in nearby Knox, New York. As a first responder, Oravec was thrilled with today's announcement. "This is going to a tremendous help, not only to myself and my family, but to my community," said Oravec. "Up until now, I had to take annual leave to fight a fire."
The Memorandum of Understanding signed today requires employees to satisfy one of four criteria in order to qualify for this new leave policy: The volunteer activity will clearly enhance the professional development or skills of the employee in his/her current position; the absence is brief and is determined to be in the interest of the Department; the absence is sponsored and sanctioned by the Department; or, the absence is directly related to HUD's mission.
Examples of the Department's mission may include any program or activity that may already be considered an "eligible activity" under the Community Development Block Grant (CDBG) program. Employees should seek written approval from their supervisor that includes a detailed description of the volunteer activity. To read the Memorandum of Understanding signed today, visit HUD's website.
###