HUD No. 06-099
Brian Sullivan, HUD
(202) 708-0685
Lilianne Wright, Gulf Coast Rebuilding
(202) 572- 8890

For Release
Friday
August 18, 2006
---
JACKSON & POWELL ANNOUNCE $973 MILLION TO PROMOTE LONG-TERM RECOVERY IN ALABAMA, FLORIDA, MISSISSIPPI, AND TEXAS
WASHINGTON - Housing and Urban Development Secretary Alphonso Jackson and Donald E. Powell, Federal Coordinator for Gulf Coast Rebuilding, today announced $973 million in disaster funding to help Alabama, Florida, Mississippi, and Texas to recover from last year's hurricanes. The emergency funding is provided through HUD's Community Development Block Grant (CDBG) Program and is part of President Bush's commitment to support the states in their rebuilding efforts.
HUD is allocating the following CDBG assistance to four Gulf Coast states.
| | |
| --- | --- |
| Alabama | $21,225,574 |
| Florida | $100,066,518 |
| Mississippi | $423,036,059 |
| Texas | $428,671,849 |
| Total | $973,000,000 |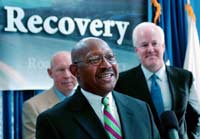 Secretary Jackson announced today $428.7 million to promote longterm hurricane recovery in Texas along with Houston Mayor Bill White and Senator John Cornyn in Houston.

"Today, the Bush Administration makes another investment in the long-term recovery of the Gulf Coast," said Jackson. "These four states can now develop plans on how they will restore needed affordable housing, rebuild critical infrastructure and stimulate the economies of areas that all of us are determined to see recover."
Donald Powell, Federal Coordinator for Gulf Coast Rebuilding, said, "This funding represents another step forward in rebuilding the Gulf Coast and helping our fellow Americans who continue to need help after this unprecedented event. These funds will go a long way toward meeting the need for affordable rental housing, whether through reconstruction or rehabilitation of existing units, and providing services to those residents who remain displaced from their homes."
HUD allocated the CDBG supplemental funding based on Congress's intent that particular emphasis be placed on the repair, rehabilitation and reconstruction of affordable rental housing. In addition, HUD placed special priority on the unmet needs of evacuees forced from their own homes and who are now living in other states (see HUD's Methodology below).
Last month, HUD awarded $4.2 billion in CDBG disaster assistance to Louisiana in addition to the $6.2 billion the Department allocated to the Bayou State earlier this year. The combined $10.4 billion is the fulfillment of the President's pledge to rebuild Louisiana and will support the state's "Road Home" programs to encourage the rebuilding of homes and the return of Louisianans to the state.
Since January, HUD has allocated a total of $16.7 billion of CDBG funds to Alabama, Florida, Louisiana, Mississippi, and Texas to promote each state's long-term recovery in the aftermath of last year's hurricanes. These states are using these funds to develop plans that include helping thousands of homeowners, promoting affordable rental housing and restoring critical infrastructure.
HUD is the nation's housing agency committed to increasing homeownership, particularly among minorities; creating affordable housing opportunities for low-income Americans; and supporting the homeless, elderly, people with disabilities and people living with AIDS. The Department also promotes economic and community development, and enforces the nation's fair housing laws. More information about HUD and its programs is available on the Internet and espanol.hud.gov.
##
HUD's Methodology
On June 15, 2006, President Bush signed Public Law 109-234, Emergency Supplemental Appropriations Act for Defense, the Global War on Terror, and Hurricane Recovery, 2006. The law includes nearly $5.2 billion to the Community Development Block Grant (CDBG) program "for necessary expenses related to disaster relief, long-term recovery, and restoration of infrastructure in the most impacted and distressed areas related to the consequences of Hurricane Katrina, Rita, or Wilma in States for which the President declared a major disaster." The law further indicates that no one State shall receive more than $4.2 billion.
On July 11, 2006, HUD allocated the State of Louisiana the statutory maximum $4.2 billion, making available $973 million to address the disaster recovery needs of Alabama, Florida, Louisiana, Mississippi, and Texas. HUD took the following steps to identify the remaining unmet needs in each state:
(1) HUD compiled data from FEMA and the Small Business Administration on the extent and concentration of housing damage in each State. HUD staff then discounted insurance payments and FEMA repair grants.
(2) Each state was then invited to provide their data on remaining recovery needs not accounted for in HUD's data including the unmet needs of businesses, evacuees, and infrastructure.
(3) In late July, HUD met with representatives from Alabama, Florida, Mississippi and Texas to discuss each state's unmet needs and priorities for recovery.
Each state also provided its action plan for how they planned to spend funds from the first CDBG Supplemental Allocation ($11.5 billion) to address these unmet needs.
HUD staff then compiled the HUD and State data by several key categories of need:
Affordable rental housing repair
Other housing repair
"Hardening" homes that suffered major and severe damage against future storms
Evacuee unmet needs
Economic recovery
Infrastructure
In making its allocation, HUD placed a higher priority on the unmet needs of affordable rental housing, evacuees, and business recovery. While still important, lower priority weights were applied to remaining needs in the areas of other housing needs, home hardening, and infrastructure.