HUD No. 06-154
Brian Sullivan
(202) 708-0685
For Release
Wednesday
December 20, 2006
---
HUD APPROVES $700 MILLION MISSISSIPPI PLAN TO HELP LOWER-INCOME, ELDERLY AND DISABLED HOMEOWNERS
Jackson also approves $500 million plan to stimulate recovery in 49 Mississippi counties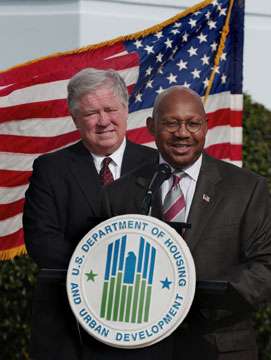 Secretary Jackson and Mississippi Governor Haley Barbour In Gulfport MS announcing $700 Million dollar Mississippi plan to help lower income, elederly and disabled homeowners after Hurricane Katrina. Dec 20, 2006
GULFPORT, MS - Housing and Urban Development Secretary Alphonso Jackson today approved the second phase of Mississippi's Homeowner Assistance Program to help thousands of lower income homeowners recover from Hurricane Katrina. Mississippi's plan will provide up to $100,000 to certain eligible families who lived in Hancock, Harrison, Jackson and Pearl River Counties.
In addition, Jackson gave the Department's green light to a $500 million plan to support economic development and job growth in 49 disaster-affected counties in the State.
"This is a good plan that recognizes many lower income, elderly and disabled Mississippians are still struggling to get back on their feet," said Jackson, who made the announcement with Governor Haley Barbour and other officials in Mississippi at Gulfport City Hall. "The plan we approve today will help thousands of households to plan for tomorrow and will ensure working families will still have a home in Mississippi. I'm also pleased to approve a plan that will stimulate economic development and job growth in dozens of devastated counties in South Mississippi."
Homeowner Grant Assistance Program (Phase II) - $700 million
Homeowner Grant Assistance Program (Phase II) - The Phase II Assistance Plan includes $700 million in grants up to $100,000 per eligible homeowner. In exchange for this assistance, a covenant will be placed on the property that obligates all current and future homeowners to comply with building codes, flood insurance and elevation requirements. Homeowners receiving this assistance will also be required to guarantee that the home will be owner-occupied for at least three years. Homeowners who choose to relocate must do so in one of Mississippi's lower six counties. HUD estimates that approximately 9,000 lower-income households will be eligible for grants under this program.
Mississippi will also give special consideration to qualified elderly, disabled or very low-income homeowners. A separate grant of up to$30,000 is also available to defray the costs of elevating homes where required. The funding is part of $5.058 billion in Community Development Block Grant (CDBG) assistance Jackson allocated to Mississippi to facilitate the state's long-term recovery.
Earlier this year, HUD approved Phase I of Mississippi's Homeowner Assistance Program to help homeowners who lived outside federally designated flood zones, primarily in South Mississippi. Phase II will devote a total of $700 million to assist affected homeowners whose homes were located within designated flood areas and, for the first time, targets funding to those least able to recover on their own.
Like Phase I of the program, Phase II of the Homeowner Assistance Program provides compensation to help eligible homeowners meet their individual recovery needs, including the use of grants to rebuild their homes, repair their properties, or relocate near their previous homes.
To qualify for grant assistance under the Phase II Assistance Program, applicants must have:
Owned and occupied a home as a primary residence on August 29, 2005;
Owned a home located in Hancock, Harrison, Jackson or Pearl River Counties, Mississippi;
Owned a home that received flood surge damage as a result of Hurricane Katrina and;
Had a household income at or below 120 percent of median income.
Special Needs Consideration - Eligible homeowners with the following special needs will receive the maximum allowable grant, regardless of whether they carried insurance prior to Katrina:
Elderly - Age 65 as of the grant close date.
Disabled - Any person who has a physical or mental impairment that substantially limits daily living.
Low Income - Any household whose income does not exceed 60 percent of median income.
Elevation Grant Program - In addition to the grant assistance described above, qualified homeowners may also be eligible for up to $30,000 to help defray the added costs associated with raising homes to meet new elevation requirements. This assistance will be most helpful to low-income, elderly and disabled homeowners faced with the significant costs of associated with elevating their homes, in some cases by as much as 20 feet.
Economic Development Program - $500 million
The purpose of this program is to stimulate economic development in dozens of local county governments in Mississippi. Grants of up to $10 million will be made available to 49 Presidentially declared disaster counties in the State. The Mississippi Development Authority will also accept loan applications from these counties to promote business recovery and employment. The program devotes $160 million of the $500 million to community revitalization and planning grants to local governments in the six coastal counties, including George, Hancock, Harrison, Jackson, Pearl River, and Stone.
HUD is the nation's housing agency committed to increasing homeownership, particularly among minorities; creating affordable housing opportunities for low-income Americans; and supporting the homeless, elderly, people with disabilities and people living with AIDS. The Department also promotes economic and community development, and enforces the nation's fair housing laws. More information about HUD and its programs is available on the Internet and espanol.hud.gov. For more information about FHA products, please visit www.fha.gov.
To read the full text of Phase II of Mississippi's Homeowner Assistance Plan, visit HUD's website.
###