HUD No. 07-024
Steve O'Halloran
(202) 708-0980
For Release
Friday
March 2, 2007
---
HUD PRESERVES AFFORDABLE HOUSING IN NEW YORK BY DENYING SALE OF STARRETT CITY
WASHINGTON - Citing a lack of sufficient information that demonstrates their commitment to affordable housing, U.S. Housing and Urban Development Secretary Alphonso Jackson today denied Clipper Equity, L.P.'s request to purchase the Starrett City housing development in Brooklyn, New York.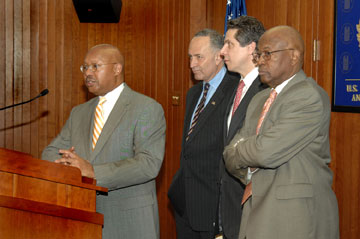 "Today, I'm announcing that I will deny HUD approval of the sale of Starrett City. This department will not stand idly by while a community and its people are unnecessarily placed at risk of losing their homes and way of life. By exercising my authority, I act to protect the people served by this department," Jackson said at a press conference with officials from New York.
"We must remember the purpose of affordable housing. It is where people live together, grow up together, and grow old together. Starrett City is a community of people...a way of life...a good life that has been the product of thousands of people working and living together in harmony every single day," added Jackson.
In a letter sent to Clipper Equity, Jackson said the prospective buyer has not provided sufficient information to demonstrate their financial and managerial capabilities for preserving Starrett City as affordable housing on a long-term basis.
For a copy of the entire letter, please contact HUD's Office of Public Affairs at (202) 708-0980
-###-
HUD is the nation's housing agency committed to increasing homeownership, particularly among minorities; creating affordable housing opportunities for low-income Americans; and supporting the homeless, elderly, people with disabilities and people living with AIDS. The Department also promotes economic and community development, and enforces the nation's fair housing laws. More information about HUD and its programs is available on the Internet and espanol.hud.gov. For more information about FHA products, please visit www.fha.gov.