HUD No. 07-077
Steve O'Halloran
(202) 708-0980
For Release
Monday
June 4, 2007
---
HUD SECRETARY STRESSES PROMOTION AND PROTECTION TO KEEP AMERICAN DREAM OF HOMEOWNERSHIP ALIVE
Jackson addresses National Press Club to kickoff National Homeownership Month
WASHINGTON - U.S. Housing and Urban Development Secretary Alphonso Jackson today addressed the National Press Club to launch a month-long campaign that emphasizes the Bush Administration's commitment to promoting and protecting the American Dream of homeownership. Jackson discussed the "State of the American Housing Market" and efforts by HUD to help more families buy and stay in their homes using safe, fair and affordable means.
"Ownership is one of the common themes - maybe the greatest theme - of the American experience, and homeownership is one path to upward mobility, wealth creation, and a secure retirement. The work of our Department, in providing incentives and programs that assist in affordable housing and homeownership itself, is a vital part of the American enterprise," Jackson said during the National Homeownership Month kickoff.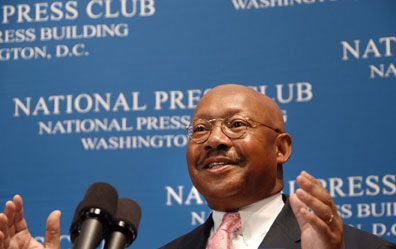 Homeownership is near an all time high of 70 percent and remains a large slice of our gross national product - 6 percent or $767 billion last year - including housing services, the percentage is close to 20 percent. More than 75 million Americans are homeowners, including over 50 percent of minority families. The increase in homeownership over the past several years has created a major national investment in infrastructure, construction, lending and equity. It has also generated positive investment opportunities on a global scale, including record job creation, an increase in real income and low interest rates.
Jackson said recent corrections to the housing market and a return to a healthier, more sustainable level of activity are an opportunity to assess the housing market and discuss alternatives and solutions to prevent similar challenges in the future. The Secretary laid out three areas of concern within the housing market that must be dealt with immediately: predatory lending; prevalence of exotic subprime loans; and the loss of consumer confidence.
"Predatory lenders have targeted homebuyers - especially minorities - and successfully manipulated many of them into unwarranted, illegal, or unethical loans. HUD will continue to aggressively pursue any predatory lender," Jackson added. "Consumers must also be empowered with the tools to be able to read and understand the fine print and know when to ask for help."
A recent HUD-sponsored homeownership summit revealed that half of all homeowners facing foreclosure are afraid to contact their lender for help. Speaking at the summit, Jackson encouraged individuals to contact one of the 2,300 HUD-approved housing counseling programs, which offer a wide array of services for buying a home, avoiding predatory lending, and assisting homeowners facing default. The Bush Administration has increased the budget for counseling from $13 million to $41 million - over a 200 percent increase. In the coming fiscal year, the President has requested $50 million for housing counseling grants.
Jackson also said exotic subprime loans carry teaser rates and hidden balloon payments and do not take into account borrowers financial situation. HUD estimates 80 percent of subprime adjustable rate loans taken out in 2005 and 2006 are secure and just now beginning to experience increased payments. The other 20 percent are exotic, with large reset rates that make it difficult for families to make the higher payments.
Refinancing with the Federal Housing Administration (FHA) could be an antidote to subprime difficulties, Jackson said, who also added that FHA's foreclosure of 1.3 percent is half the subprime average thanks to its lending relief measures.
"There are tens of thousands of homeowners whose reset rates are about to hit like a ton of bricks who could benefit from refinancing with us. We actively work with people who are running into financial difficulty by extending their loans terms, temporarily reducing their payments, or making a partial claim through the FHA insurance fund," Jackson said.
Jackson added that Americans who are turned away from the prime lenders still deserve a chance at the dream of homeownership.
"One way to do this is by modernizing the FHA. We need this reform now. If Congress passes FHA reform, we could help hundreds of thousands of families and we could do so without cost to the taxpayer."
Over the past 73 years, the FHA mortgage insurance program has helped millions of families become homeowners. Jackson noted that later this month, FHA will celebrate FHA's 34 millionth FHA customer. Internal improvements have reduced the red tape and made FHA-backed loans more appealing, but the program's ability to give more families a safe alternative to high-cost, high-risk loans is limited without statutory changes. Under today's restricted premium limits and maximum loan amounts, FHA simply cannot reach all the borrowers who need the safety-net that FHA can provide. Legislation could set FHA insurance premiums commensurate with risk, which could help those thousands of borrowers who need an exit strategy from their exotic mortgages.
"Our commitment to homeownership must remain steadfast. It is unfair to say that the American Dream shouldn't be for everyone. We must recognize that problems in the market are not problems with the Dream itself. We need to preserve and protect homeownership to keep the American Dream alive today and for many years to come," Jackson concluded.
###
HUD is the nation's housing agency committed to increasing homeownership, particularly among minorities; creating affordable housing opportunities for low-income Americans; and supporting the homeless, elderly, people with disabilities and people living with AIDS. The Department also promotes economic and community development, and enforces the nation's fair housing laws. More information about HUD and its programs is available on the Internet and espanol.hud.gov. For more information about FHA products, please visit www.fha.gov.