HUD No. 07-167
Brian Sullivan
(202) 708-0685
For Release
Wednesday
November 7, 2007
---
HUD REPORTS DROP IN NUMBER OF CHRONICALLY HOMELESS PERSONS LIVING ON NATION'S STREETS
Decrease largely attributed to increase in supportive housing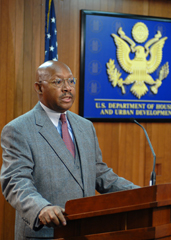 WASHINGTON - For the first time ever, the U.S. Department of Housing and Urban Development is reporting a nearly 12 percent decrease in the number of chronically homeless persons living on the nation's streets. HUD's analysis found that more than 20,000 persons moved from the streets into transitional and permanent supportive housing between 2005 and 2006.
According to data from 3,900 cities and counties across the country, HUD found that more than 1,500 communities reported a reduction in the number of long-term homeless persons over a one-year period. HUD's analysis indicates there were 155,623 chronically homeless individuals in 2006, down from 175,914 from the year before - an 11.5 percent decrease.
"While we have a lot of work ahead of us to eliminate chronic homelessness in America, these numbers show remarkable progress is being made," said HUD Secretary Alphonso Jackson. "HUD and local communities are increasingly providing permanent housing solutions and breaking a vicious cycle of homelessness for those who have lived on the streets as a way of life."
The reduction in the number of chronically homeless persons can be directly attributed to the investment HUD and local "continuums of care" are devoting to create more permanent supportive housing units. In addition, better data collection and reporting methods are giving local communities a more accurate sense of the scope of homelessness in their own areas.
Last year alone, HUD awarded $286 million to 1,100 local programs that exclusively house and serve individuals experiencing chronic homelessness. This funding created approximately 4,000 new units of permanent supportive housing. Since 2001, HUD has awarded more than $9 billion to support thousands of local housing and service programs throughout the nation and is seeking a record $1.6 billion through the Department's Continuum of Care homeless assistance grant programs for FY 2008. This request of Congress represents a 41 percent increase over HUD's investments in 2001.
Each year, local communities conduct one-night counts of homeless persons living in shelters. In 2005 and in 2007, local communities also undertook a census of homeless persons living on the streets, in parks and other places not meant for human habitation. Combined, these comprehensive shelter and street "point-in-time snapshots" offer a powerful tool to gauge progress in meeting the homeless challenge and creating innovative housing solutions in response.
Earlier this year, HUD released a landmark report that sought to measure the scope of homelessness in America for the first time since 1984. The Department's first-ever Annual Homeless Assessment Report to Congress concluded that an estimated 754,000 persons are homeless on any given night. In 2004, HUD published Strategies to Reducing Chronic Street Homelessness to help local communities develop innovative new approaches to confront long-term homelessness.
Quantifying homelessness is challenging to researchers both in and out of government. Previous surveys have attempted to produce unduplicated counts of homeless persons by measuring homelessness over very limited periods of time, usually for a single night. While HUD continues to collect this point-in-time data for both sheltered and unsheltered persons, new data collection techniques being implemented will allow researchers to study the sheltered homeless population over time.
###
HUD is the nation's housing agency committed to increasing homeownership, particularly among minorities; creating affordable housing opportunities for low-income Americans; and supporting the homeless, elderly, people with disabilities and people living with AIDS. The Department also promotes economic and community development and enforces the nation's fair housing laws. More information about HUD and its programs is available on the Internet and espanol.hud.gov.