HUD No. 08-031
Donna White
(202) 708-0685
For Release
Thursday
March 6, 2008
---
SURVEY FINDS THAT MOST NEW ORLEANS PUBLIC HOUSING RESIDENTS WANT TO RETURN TO CITY, BUT NOT TO PUBLIC HOUSING
Only 35 percent want to live in New Orleans public housing
NEW ORLEANS - A significant majority of public housing residents displaced by Hurricane Katrina do not want to return to public housing in New Orleans, according to an independent survey commissioned by the Housing Authority of New Orleans (HANO). Conducted by the University of Texas at Arlington (UTA), the representative unbiased sampling of more than 2,100 current and former public housing residents found that while 71.6 percent want to return to New Orleans, only 35 percent preferred to return to public housing in New Orleans.
When asked what form of housing they prefer, only 20.3 percent of respondents wanted to return to their former public housing units. A closer examination of families who resided in the C.J. Peete, B.W. Cooper, St. Bernard, and Lafitte developments ("the Big 4") found that even fewer (13.7 percent) preferred to return to their former units.
"This survey illustrates what HANO and HUD have been saying for the past two years," said C. Donald Babers, the HUD-appointed HANO board chairman. "The vast majority of HANO's families want better housing in safer communities. We are creating a vibrant, safe environment where children and families can thrive. These residents deserve something better than what they had and our plan give it to them."
The findings of the UTA resident survey include:
35 percent of households want to return to their former units or other available public housing units in the City of New Orleans;
Only 20.3 percent of all respondents want to return to the public housing unit they occupied prior to Hurricane Katrina;
36.6 percent of public housing households want to return to New Orleans, but want a Housing Choice Voucher (Section 8) to rent a home rather than live in public housing;
21.4 percent prefer to remain in the community where they relocated, continuing to live in public housing or private rental housing supported by a Housing Choice Voucher; and
6.9 percent did not express a preference.
Last July, HANO contracted with the University of Texas at Arlington (UTA) to conduct a survey of the approximately 5,100 families who resided in New Orleans public housing prior to Hurricane Katrina. In close consultation with public housing advocates, residents, representatives of Rep. Maxine Waters' staff, and others, UTA developed an extensive survey designed to gauge the preferences of families who were displaced from their homes.
UTA hired Survey Communications, Inc. (S.C.I. Research) of Baton Rouge, a full-service, national marketing research firm, to conduct the telephone survey of all the families. After numerous attempts to contact former residents, S.C.I. Research was able to contact 2,553 former residents. Ultimately, 41 percent of HANO residents (2,109) agreed to participate in the survey. When comparing of characteristics of those surveyed with all 5,100 displaced public housing families, the sample is found to be highly representative.
Half of the respondents have already moved back to New Orleans. Currently, there are 1,824 families living in a combination of rehabilitated and newly-constructed public housing units in New Orleans. There are another 253 units available for lease and another 790 units under repair. Former residents who are not living in public housing units are receiving housing assistance under the Disaster Voucher Program either in New Orleans or in another city.
In addition to gauging the housing preferences of current and former HANO residents, the survey sought to explore when residents intend to return to New Orleans. Nearly 80 percent expressed a desire to return to New Orleans within six months. When asked what barriers, if any, might delay their return, many families indicated they needed transportation and moving assistance. HANO intends to contact all families who responded to the survey and who expressed a preference to return to New Orleans to help facilitate their move.
In June 2006, HUD and HANO proposed to redevelop the four public housing communities (St. Bernard, Lafitte, C.J. Peete and B.W. Cooper) that were most severely damaged by Hurricane Katrina. Last December, the New Orleans City Council unanimously approved HANO's request to demolish the decades-old public housing developments and rebuild them as mixed-income communities.
The survey results announced today reinforce HANO's plans to redevelop a sufficient number of public housing units to meet the expressed demand of former residents. HANO's intends to redevelop more than 3,200 public housing units and another 1,765 affordable housing units that would service families at or below 80 percent of the area median income. The plan also includes another 1,800 single family homes that would be market rate and affordable.
View a copy of HANO's Public Housing Resident Survey.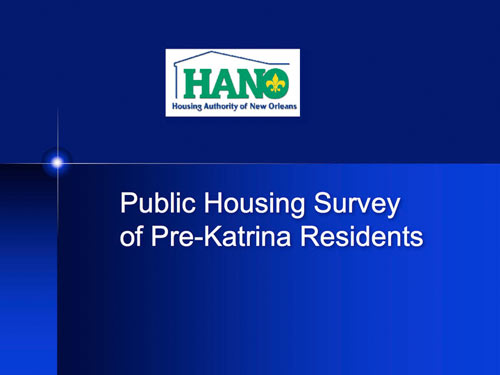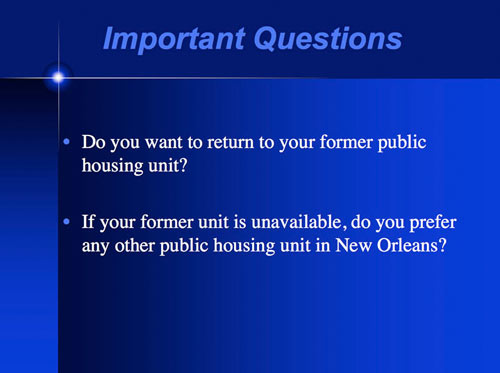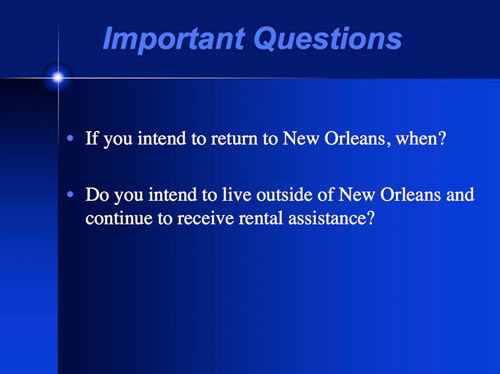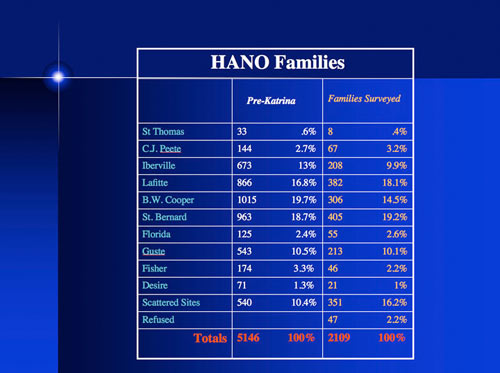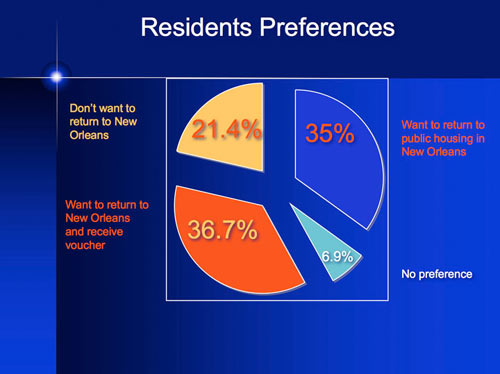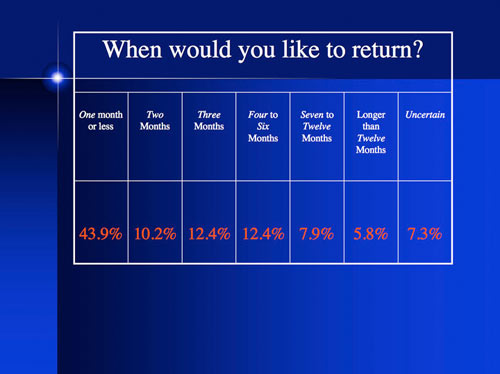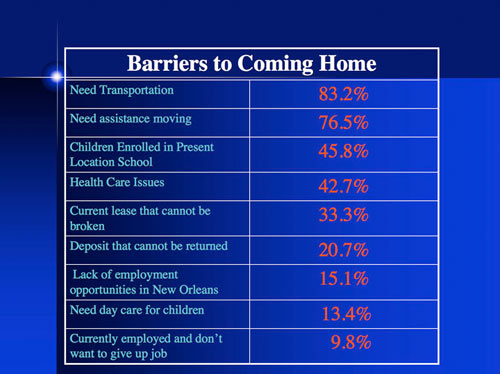 HUD is the nation's housing agency committed to increasing homeownership, particularly among minorities; creating affordable housing opportunities for low-income Americans; and supporting the homeless, elderly, people with disabilities and people living with AIDS. The Department also promotes economic and community development and enforces the nation's fair housing laws. More information about HUD and its programs is available on the Internet and espanol.hud.gov.
###