HUD No. 09-034
Lemar Wooley
(202) 708-0685
For Release
Wednesday
April 8, 2009
---
FHA SETTLES $756 MILLION DEAL TO CONSTRUCT STATE OF THE ART HOSPITAL IN NEW JERSEY
Capital Health Project is the largest in History of HUD's FHA
WASHINGTON - In the largest single transaction of its 75 year history, the Federal Housing Administration today announced that it has finalized a deal to insure a $756 million mortgage for Capital Health of Trenton, New Jersey. The loan is made possible through the FHA's Section 242 Hospital Mortgage Insurance Program. It will allow Capital Health to construct a new 223-bed hospital in Hopewell Township to replace the existing Mercer Medical Center.
In addition, Capital Health's Fuld Hospital in Trenton will create two new medical-surgical units and provide space to accommodate services transferred from Mercer. By insuring the mortgage loan, FHA enabled Capital Health to obtain a lower cost financing, saving the hospital approximately $538 million in interest expense over the 25 year life of the loan.
"This is the biggest deal in FHA's history," said U.S. Housing and Urban Development Secretary Shaun Donovan. "By lowering the cost of credit for Capital Health, FHA will allow the company to use more of its resources to serve the medical needs of the community."
"With the financing now in hand, we are confident that we'll deliver to this region in 2011, the finest healthcare facilities and most advanced medical care available," said Al Maghazehe, CEO and President of Capital Health. "We are proud that we met HUD's high financial standards for approval and are pleased to partner with them on this important project."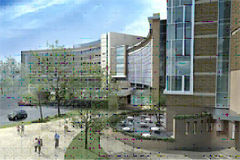 Capital Health's Fuld Hospital

The Capital Health construction projects will create approximately 4,700 full-time jobs and provide an economic stimulus of nearly $1.7 billion during the construction period. Once construction is completed, the project will support an additional 2,200 jobs in the community and provide an annual economic benefit of approximately $425 million.
This FHA-insured project is also backed by the full faith and credit guarantee of a Ginnie Mae mortgage-backed security. Ginnie Mae is a wholly-owned government corporation within the U.S. Department of Housing and Urban Development.
FHA's Section 242 Mortgage Insurance Program for Hospitals provides HUD-insured mortgages made by private lending institutions to finance construction or renovation of acute care hospitals including major equipment needed to operate the facility. The eligible applicants can be public, proprietary, or nonprofit hospitals certified by the responsible State agency.
###
HUD's mission is to create strong, sustainable, inclusive communities and quality affordable homes for all. HUD is working to strengthen the housing market to bolster the economy and protect consumers; meet the need for quality affordable rental homes: utilize housing as a platform for improving quality of life; build inclusive and sustainable communities free from discrimination; and transform the way HUD does business. More information about HUD and its programs is available on the Internet at www.hud.gov and espanol.hud.gov. You can also follow HUD on twitter @HUDnews, on facebook at www.facebook.com/HUD, or sign up for news alerts on HUD's News Listserv.