HUD No. 14-013
Shantae Goodloe
(202) 708-0685
For Release
Wednesday
February 12, 2014
---
HUD EMPLOYEE EARNS PRESTIGIOUS HONOR FROM TRUMPET AWARD FOUNDATION FOR ADVANCING CIVIL RIGHTS
DeAndra J. Cullen recognized for her work in ending housing discrimination
WASHINGTON - The U.S. Department of Housing and Urban Development announced today that DeAndra J. Cullen, Acting Director of the Fair Housing Division of Education and Outreach, has received the Atlanta-based Trumpet Award Foundation's "High Heels Award" for her work in promoting civil rights and higher education. DeAndra J. Cullen, received the prestigious award at the Foundation's recent awards banquet in Atlanta.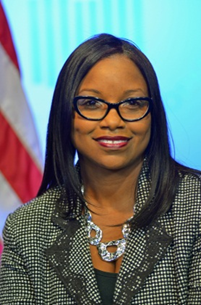 DeAndra J. Cullen

The annual Trumpet Awards acknowledge the accomplishments of men and women who enhance the quality of life in America's communities, particularly those working to advance the principles of justice and equality. In addition, Trumpet Awards celebrate and honor African Americans who have distinguished themselves in their chosen fields and those who support the African American experience through their work in law, medicine, business, politics, the arts, civil rights, sports, entrepreneurship and entertainment.
Cullen, an attorney in HUD's Office of Fair Housing and Equal Opportunity, is responsible for developing strategies and creating educational materials that enhance the public's knowledge of the Fair Housing Act, the landmark law that prohibits housing discrimination based on a person's race, color, national origin, religion, sex, family status, and disability. In addition to working at HUD, Cullen is an adjunct professor at Bowie State University's School of Business in Bowie, MD, where she teaches graduate and undergraduate courses in labor relations and conflict management. She lives with her husband and three children in Bowie. Cullen has a J.D. from Indiana University and a B.S. from North Carolina A&T State University.
"Whether she's helping people fight housing discrimination by day, or training the next generation of civil rights lawyers by night, DeAndra has devoted herself personally and professionally to the uplift of others," said Bryan Greene, HUD Acting Assistant Secretary for Fair Housing and Equal Opportunity. "I'm honored to work with DeAndra daily and I am pleased that the Trumpet Awards Foundation has recognized her publicly for the contributions she has made on behalf of individuals and communities."
The Trumpet Awards Foundation created the High Heels Award in 2006 to recognize the professional and civic contributions of women that occupy important decision-making positions in the workplace and exhibit tremendous leadership in their communities.
###
HUD's mission is to create strong, sustainable, inclusive communities and quality affordable homes for all. HUD is working to strengthen the housing market to bolster the economy and protect consumers; meet the need for quality affordable rental homes: utilize housing as a platform for improving quality of life; build inclusive and sustainable communities free from discrimination; and transform the way HUD does business. More information about HUD and its programs is available on the Internet at www.hud.gov and http://espanol.hud.gov. You can also follow HUD on twitter @HUDGov, on facebook at www.facebook.com/HUD, or sign up for news alerts on HUD's Email List.