HUD No. 14-042
Brian Sullivan
(202) 708-0685
For Release
Wednesday
May 7, 2014
---
HUD ANNOUNCES WINNER IN STUDENT DESIGN AND PLANNING COMPETITION
Ohio St. team to work with Bergen Co., NJ to develop permanent homes for homeless vets
WASHINGTON - The U.S. Department of Housing and Urban Development today announced a team of graduate school students from Ohio State University is the winner of HUD's inaugural Innovation in Affordable Housing Student Design and Planning Competition (www.huduser.org/portal/challenge/about.html). The Ohio State team developed a design plan for the development of a Revolutionary War-era structure in Bergen County, New Jersey into new permanent supportive housing for homeless veterans. HUD selected a collaborative team from New York University and Columbia University as runner up.
HUD Secretary Shaun Donovan said, "Too often, the contributions of young people are viewed through the prism of the future. But these young minds are demonstrating they can make a real and meaningful difference in the here and now. By developing key partnerships in their planning process, they've shown there is room for innovation in the nation's affordable housing movement that can inspire us all."
HUD's new student design and planning competition is intended to encourage research and innovation in affordable housing, to raise practitioner and future practitioner capacity, and to foster cross-cutting team-work within the design and community development process. Multi-disciplinary graduate student teams were asked to create innovative solutions involving design, planning, and finance.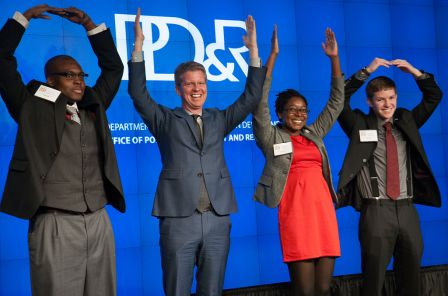 Left to right: Donald Wiggins, Jr., Secretary Shaun Donovan, Shanell Davis, and Brad Hosfeld
The Ohio State University team will receive a $10,000 award and the joint team from NYU-Columbia University will receive $5,000. OSU team members Donald Wiggins, Jr., Shanell Davis, Megahn Kaple, Brad Hosfeld, and Kevin Schildwaster submitted a proposal to rehabilitate two historic buildings with six 650-square foot units each. Half of the residential units will be fully accessible for persons living with disabilities and will include a 21st century gym/physical therapy training center. The team's vision also includes garden and patio spaces to offer residents, visitors, friends, and families to enjoy the outdoors. To reduce winter heating costs, the residential buildings are designed with lightwells to help bring in more light to the units.
HUD and the Housing Authority of Bergen County(HABC) challenged these graduate school design teams to consider the complex challenges associated with preserving a historic structure, producing affordable housing, and offering a supportive environment for the homeless. These student participants considered design, community development, and financing elements in order to provide an all-encompassing plan and solution that would allow HABC to meet their goal. They also incorporated the needs of the intended residents, the zoning restrictions, and leveraging opportunities.
###
HUD's mission is to create strong, sustainable, inclusive communities and quality affordable homes for all. HUD is working to strengthen the housing market to bolster the economy and protect consumers; meet the need for quality affordable rental homes: utilize housing as a platform for improving quality of life; build inclusive and sustainable communities free from discrimination; and transform the way HUD does business. More information about HUD and its programs is available on the Internet at www.hud.gov and http://espanol.hud.gov. You can also follow HUD on twitter @HUDGov, on facebook at www.facebook.com/HUD, or sign up for news alerts on HUD's Email List.