HUD No. 15-014
Brian Sullivan
(202) 708-0685
For Release
Tuesday
February 3, 2015
---
HUD REPORTS CONTINUED HIGH LEVELS OF "WORST CASE HOUSING NEEDS"
7.7 million households paid more than half their income for rent or lived in substandard housing
WASHINGTON - The number of very poor families struggling to pay their monthly rent and who may also be living in substandard housing declined between 2011 and 2013, but persist at high levels according to a new summary report released today by the U.S. Department of Housing and Urban Development (HUD). HUD reports that in 2013, 7.7 million very low-income unassisted families paid more than half their monthly income for rent, lived in severely substandard housing, or both.
HUD's Worst Case Housing Needs: 2015 Report to Congress (www.huduser.org/portal/publications/affhsg/wc_HsgNeeds15.html) is part of a long-term series of reports measuring the scale of critical housing problems facing very low-income un-assisted renters. Based on data from HUD's most recent American Housing Survey conducted by the U.S. Census Bureau, the number of these "Worst Case Housing Needs" declined from the previous record high in 2011 (8.5 million households) yet remain nearly 50 percent higher than in 2003. HUD will issue a final report on these worst case needs this spring.
"This report demonstrates the profound difficulties felt by millions of households struggling to pay their rent," said Castro. "As our economy continues to improve, we need to ensure our budget provides opportunity for vulnerable families living on the margins and restores the harmful cuts to our rental assistance programs due to sequestration."
Worst Case Housing Needs are defined as renters with very low incomes (below half the median in their area) who do not receive government housing assistance and who either paid more than half their monthly incomes for rent, lived in severely substandard conditions, or both. HUD's report finds that housing needs cut across all regions of the country and included all racial and ethnic groups, regardless of whether they lived in cities, suburbs or rural areas. In addition, HUD concluded that large numbers of worst case needs were also found across various household types including families with children, senior citizens, and persons with disabilities.
HUD's report found:
Worst case housing needs were 7.7 million in 2013, down from a historic high of 8.5 million in 2011. This represents a 9 percent decline since 2011 yet remains 9 percent greater than in 2009 and 49 percent greater than in 2003.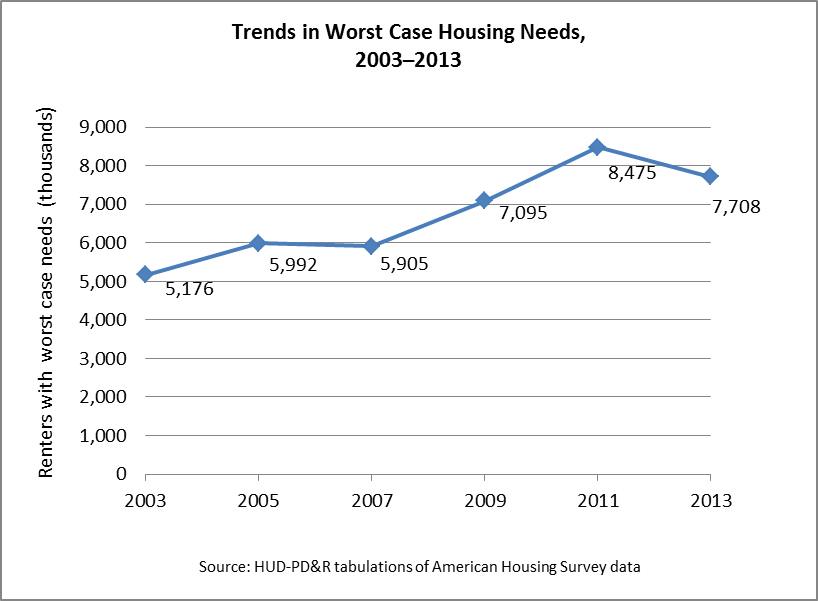 Worst case needs affect very low-income renters across racial and ethnic groups. The prevalence of worst case needs among such renters during 2013 was 44 percent for non-Hispanic Whites and Hispanics, 35 percent for non-Hispanic Blacks, and 42 percent for others. The rate decreased between 2011 and 2013 for non-Hispanic Whites, non-Hispanic Blacks, and Hispanics but not for others.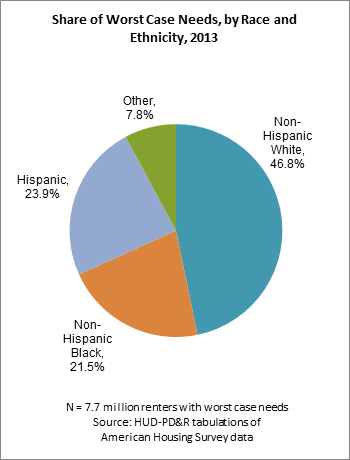 Worst case needs also affect all types of households. In 2013, 2.8 million families with children, 1.5 million elderly households without children, 2.7 million other "nonfamily" households (unrelated people sharing housing), and 0.7 million "other family" households experienced worst case needs.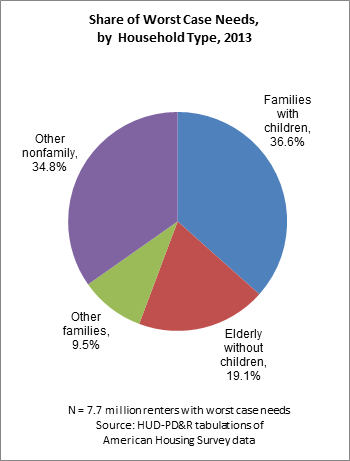 The vast majority (97 percent) of Worst Case Housing Needs are caused by severe rent burden—paying more than half of income for rent. Inadequate housing caused only three percent of worst case needs.
Government housing assistance programs, including those provided by HUD, significantly reduce worst case needs and homelessness but are not available for all those who need assistance. Nationwide, approximately one-in-four very low-income households receive some form of rental assistance. The Obama Administration has been taking strong action to respond to the decline in family incomes and increase in need for affordable housing:
Through a variety of rental assistance programs, HUD helps approximately 4.7 million families to find suitable affordable housing. The Department's FY 2016 Budget seeks to renew tenant-based rental assistance to 2.4 million current voucher holders and restore approximately 67,000 vouchers lost in 2013 due to sequestration.
Opening Doors - Opening Doors is the nation's first comprehensive strategy to prevent and end homelessness. The plan puts the country on a path to end veteran and chronic homelessness by 2015; and to ending homelessness among children, family, and youth by 2020.
Rental Assistance Demonstration - Each year, approximately 10,000 public housing units are lost from the affordable housing stock through sale or demolition and many of the nation's public housing apartments are buckling under a $26 billion backlog in capital needs. Under the Administration's comprehensive strategy to preserve and enhance the country's affordable housing stock, HUD is allowing the owners of public housing and other HUD-assisted properties to access private capital - initially unlocking an estimated $650 million in investment.
Read the Worst Case Housing Needs: 2015 Report to Congress (www.huduser.org/portal/publications/affhsg/wc_HsgNeeds15.html).
###
HUD's mission is to create strong, sustainable, inclusive communities and quality affordable homes for all. More information about HUD and its programs is available on the Internet at www.hud.gov and http://espanol.hud.gov.
You can also connect with HUD on social media and follow Secretary Castro on Twitter and Facebook or sign up for news alerts on HUD's Email List.