HUD No. 15-046
April Brown
(202) 708-0685
For Release
Wednesday
April 22, 2015
---
NYU WINS HUD'S STUDENT DESIGN AND PLANNING COMPETITION
WASHINGTON - The U.S. Department of Housing and Urban Development announced a graduate student team from New York University (NYU) the winners of HUD's second annual Innovation in Affordable Housing Student Design and Planning Competition (www.huduser.org/portal/challenge/about.html). The NYU team developed a plan for the redevelopment of a senior affordable housing high-rise in Houma, Louisiana. HUD also announced a team from UCLA as the runner up.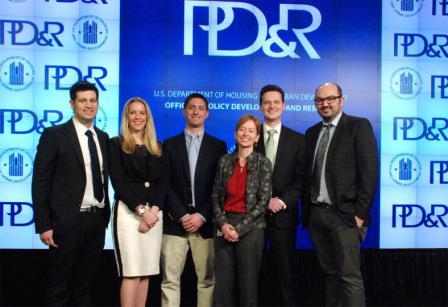 The NYU Team: Constantine Caloudas, Michelle Guber, Peter Lovanella, Kathy O'Regan (HUD), Matthew Jupin and Christopher Hayner.


"These bright minds represent the next generation of designers and planners who will produce tomorrow's affordable housing," said Katherine O'Regan, HUD's Assistant Secretary for Policy Development and Research. "It's our hope that this competition will excite new creative thinking about how to look at affordable housing."
HUD's student design and planning competition is intended to encourage research and innovation in affordable housing, to raise practitioner and future practitioner capacity, and to foster cross-cutting team-work within the design and community development process. Multi-disciplinary graduate student teams were asked to create innovative solutions involving design, planning, and finance.
The New York University team will receive a $20,000 award and the team from the University of California Los Angeles will receive $10,000. The competition jurors praised the NYU team members for their sophisticated design that minimized the bulk of the building, thereby responding to the local architectural context. The team also received very high marks for their innovative financing scheme that included a mixed-use redevelopment that incorporates retail for income purposes, creating positive community-wide impact. Their new construction development also included an Early Childcare Center and a variety of on-sites services and activities to address the needs of the community.
The solution from runner up team UCLA was gut rehab with an emphasis on energy efficiency and strong healthcare partnerships. The jurors felt that the team demonstrated a deep understanding of the senior population and its needs. They also liked the team's approach to reuse of materials as well as the proposed new modular façade, which utilized innovative materials and design concepts.
HUD and the Houma-Terrebonne Housing Authority (HTHA) challenged multi-disciplinary teams of graduate students to consider the complex challenges associated with rehabbing the current structure or demolishing it and creating new construction. These student participants had to consider design, community development, and financing elements in order to provide an all-encompassing plan and solution that would allow HTHA to meet its goal of offering safe and sustainable affordable housing to area seniors. Students also needed to understand the needs of the intended residents, the zoning restrictions, and leveraging opportunities.
Last year's winners (www.huduser.org/portal/challenge/past_competitions.html) from Ohio State University developed a design plan for the development of a Revolutionary War-era structure in Bergen County, New Jersey into new permanent supportive housing for homeless veterans.
###
HUD's mission is to create strong, sustainable, inclusive communities and quality affordable homes for all. More information about HUD and its programs is available on the Internet at www.hud.gov and http://espanol.hud.gov.
You can also connect with HUD on social media and follow Secretary Castro on Twitter and Facebook or sign up for news alerts on HUD's Email List.