HUD No. 16-047
Jereon Brown
(202) 708-0685
For Release
Monday
April 11, 2016
---
DONNA BATCH NAMED HUD NORTHWEST REGIONAL ADMINISTRATOR
Will manage operations in Alaska, Idaho, Oregon and Washington
SEATTLE - U.S. Housing and Urban Development (HUD) Secretary Julián Castro today named Donna Batch to serve as HUD's Northwest Regional Administrator for a four-state region that includes Alaska, Idaho, Oregon and Washington. Batch currently serves as HUD's Acting Regional Administrator in that region.
"We're extremely fortunate to have someone with a wealth of housing knowledge combined with economic and community development experience to address the challenges in one of our busiest, most progressive regions," said Secretary Castro. "Every step in Donna's career has prepared her for the role she is assuming today. She is well-known and respected among HUD's partners throughout the region."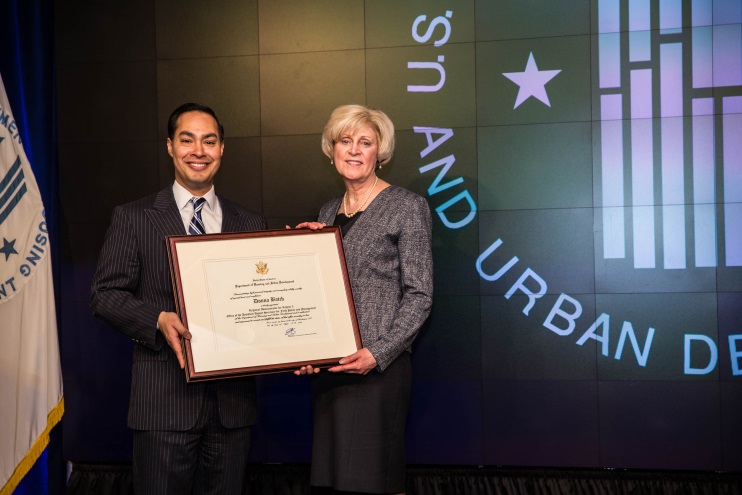 In her new position, Batch will serve as HUD's chief liaison to state and local elected officials, congressional delegations, and other stakeholders. She will work closely with senior officials of other federal agencies to effectively leverage resources and implement Administration-wide initiatives. She will also coordinate the delivery of HUD programmatic and financial support in housing, community and economic development to 56 housing authorities, 227 Federally recognized tribes and Alaskan native villages, 59 state, county and local governments and more than 400 projects serving the homeless in the region.
"I am so pleased to welcome Donna into her new role of Regional Administrator," said FPM Deputy Assistant Secretary Mary McBride. "She brings with her a proven track record of success and accomplishment, as well as a passion and commitment for the mission of HUD. She's the right leader for Region 10 - a strong leader dedicated to service, working collaboratively, and effective problem solving."
"I'm deeply honored by this privilege to serve and I am truly excited about being able to help this Administration continue to improve the delivery of HUD's services to our clients," said Batch. "HUD plays a critical role in the lives of so many families throughout this region. I want to help lead this team that is transforming the way we assist the people and places we're charged with serving."
Batch began her federal service with HUD as an economic development specialist for the Department's Office of Community Planning and Development in 1999 and served as the Deputy Regional Administrator the last five years. Prior to HUD, she owned a private consulting firm specializing in economic and community development and served in a number of management positions for the Washington State Department of Community, Trade and Economic Development. Donna has also worked as a community development specialist for the Idaho State Department of Commerce and economic development manager for the Region IV Development Association in Twin Falls, Idaho.
Batch received a Bachelor of Science Degree from Michigan State University and a Master of Science Degree from Oregon State University. Batch has also attended Harvard University's John F. Kennedy School of Government.
###
HUD's mission is to create strong, sustainable, inclusive communities and quality affordable homes for all. More information about HUD and its programs is available on the Internet at www.hud.gov and http://espanol.hud.gov.
You can also connect with HUD on social media and follow Secretary Castro on Twitter and Facebook or sign up for news alerts on HUD's Email List.