HUD No. 16-175
Jovette Gadson
(202) 708-0685
For Release
Wednesday
November 16, 2016
---
HUD HEADQUARTERS AWARDED PRESTIGIOUS LEED SILVER CERTIFICATION
Robert C. Weaver Federal Building earns coveted certification for comprehensive energy renovations
WASHINGTON - The U.S. Department of Housing and Urban Development (HUD) announced today that it has been awarded LEED Silver for the comprehensive energy renovation of its headquarters, the Robert C. Weaver Federal Building, located in Washington, D.C. Developed by the U.S. Green Building Council (USGBC), the LEED (Leadership in Energy and Environmental Design) rating system is the most recognized program for buildings, homes and communities that are designed, constructed, maintained and operated for improved environmental and human health performance.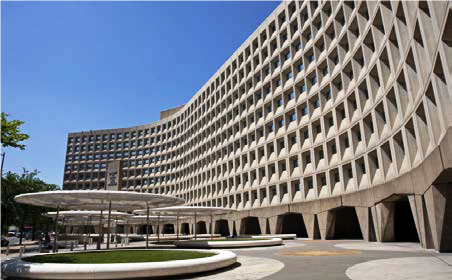 Robert C. Weaver Federal Building


HUD staff and Honeywell International worked together to develop a robust energy project that provided self-funding/budget neutral major facility improvements, improved security and indoor air quality. These efforts lowered the Weaver building's energy usage by 47 percent, reduced the building's carbon footprint by 50 percent (the equivalent of removing 1830 cars from the road), and created nearly 400 jobs. Read more.
The renovation was funded through the Department of Energy's Regional Super Energy Savings Performance Contract (ESPC)-IDIQ. The initial $34 million contract was awarded in 2010 with a $5 million modification in 2014. The project was completely budget neutral and funded through guaranteed savings from HUD's existing energy and operations budget. The cumulative savings to HUD are in excess of $90 million over the 19-year project term. During the first year after construction, HUD realized $2.7 million in energy savings and realized a reduction in on-going maintenance and repair costs from their maintenance contractor.
HUD achieved LEED Silver for implementing practical and measurable strategies and solutions aimed at achieving high performance in: water savings, energy efficiency, materials selection, and indoor environmental quality. Facility improvements to the historic Robert C. Weaver Building included:
Envelope Improvements - 1,485 custom-made, high-performance energy-efficient / blast-resistant windows

Major Mechanical Systems Replacement - Conversion of entire building to variable air volume Air Handling Units (AHUs), building of a central boiler plant, new chiller installation, Variable Frequency Drives (VFDS) pumps installation, humidification system and building-wide Energy Management Control System (EMCS)

Energy-Efficient Lighting - Conversion of inefficient T12 fluorescent and incandescent lighting technology to newer, more efficient fixtures

Water Conservation - Installation of low-flow retrofits to toilets, flush valves, sink aerators, kitchen equipment, cooling towers, and showers as water conservation retrofits.
LEED is the foremost program for the design, construction and operation of green buildings. More than 82,000 commercial and institutional projects are currently participating in LEED, comprising more than 1.85 million square feet of construction in all 50 states and more than 162 countries and territories.
###
HUD's mission is to create strong, sustainable, inclusive communities and quality affordable homes for all. More information about HUD and its programs is available on the Internet at www.hud.gov and http://espanol.hud.gov.
You can also connect with HUD on social media and follow Secretary Castro on Twitter and Facebook or sign up for news alerts on HUD's Email List.