HUD No. 18-025
HUD Public Affairs
(202) 708-0685
For Release
Monday
April 2, 2018
---
HUD COMMEMORATES FAIR HOUSING MONTH AND 50 YEARS OF THE FAIR HOUSING ACT
WASHINGTON - Nearly 50 years ago, President Lyndon Johnson signed the Civil Rights Act of 1968 and fair housing became law. In signing the landmark measure, President Johnson declared, "Now, with this bill, the voice of justice speaks again. It proclaims that Fair Housing for all, all human beings who live in this country, is now part of the American way of life."
April is Fair Housing Month and on April 11, 2018, the U.S. Department of Housing and Urban Development (HUD) will mark 50th anniversary of the Fair Housing Act in a ceremony in Washington, DC. HUD Secretary Ben Carson said that a half a century later, the Fair Housing Act remains a centerpiece of the work HUD is doing to ensure fair, inclusive housing, free from discrimination for all Americans. Watch Secretary Carson's reflections on the Fair Housing Act (https://youtu.be/sdrjLEv4ajw).
"It was a seminal moment in our country's history when the ideals of equality and fairness were embodied in a law that continues to shape our communities and our neighborhoods 50 years later. But the promises of the Fair Housing Act require our constant vigilance to confront housing discrimination in all its forms and to advance fairness on behalf of those seeking their American dream."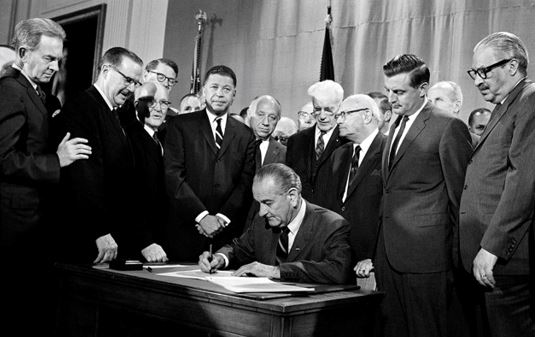 President Lyndon Johnson signs the Fair Housing Act into law with co-sponsors, Senators Edward Brooke (left) and Walter Mondale (right).


Co-sponsored by Senators Edward Brooke and Walter Mondale, the Fair Housing Act sought to end residential segregation and ensure all Americans had access to safe and decent housing. The Act originally prohibited discrimination in the sale, rental and financing of housing based on color, race, national origin and religion. Later, the Act was amended to prohibit discrimination based on sex, disability and familial status.
Today, HUD and its state and local partners enforce the Fair Housing Act and support a broad range of education and outreach activities. HUD's Office of Fair Housing and Equal Opportunity continues to take action against individuals and housing providers that engage in discrimination. Last year alone, HUD and its partner agencies received more than 8,000 complaints alleging discrimination based on one or more of the Fair Housing Act's seven protected classes.
Every year, HUD, local communities, fair housing advocates, and fair housing organizations across the country enhance the public's awareness of their housing rights, highlight HUD's fair housing enforcement efforts, and emphasize the importance of ending housing discrimination.
People who believe they have experienced discrimination may file a complaint by contacting HUD's Office of Fair Housing and Equal Opportunity at (800) 669-9777 (voice) or (800) 927-9275 (TTY). Housing discrimination complaints may also be filed by going to www.hud.gov/fairhousing.
Learn more about the Fair Housing Act on HUD's website.
###
HUD's mission is to create strong, sustainable, inclusive communities and quality affordable homes for all. More information about HUD and its programs is available on the Internet at www.hud.gov and http://espanol.hud.gov.
You can also connect with HUD on social media and follow Secretary Carson on Twitter and Facebook or sign up for news alerts on HUD's Email List.