HUD No. 20-215
HUD Public Affairs
(202) 708-0685
For Release
Monday
December 21, 2020
---
HUD SECRETARY BEN CARSON HOLDS RIBBON CUTTING CEREMONY AT NEW ATLANTIC CITY ENVISION CENTER
The Atlantic City RX5 Cyber EnVision Center relocated to a larger space in response to increased community need
ATLANTIC CITY, NJ - U.S. Department of Housing and Urban Development (HUD) Secretary Ben Carson today toured both the previous and new locations of the Atlantic City RX5 Cyber EnVision Center. Following the tour of the new location, Secretary Carson along with state and local officials commemorated the completion of the new facility with a ribbon cutting ceremony. The Atlantic City RX5 Cyber EnVision Center is located within a designated Opportunity Zone. The previous location of the Atlantic City RX5 Cyber EnVision Center has been repurposed to assist with safeguarding the community against the spread of COVID-19.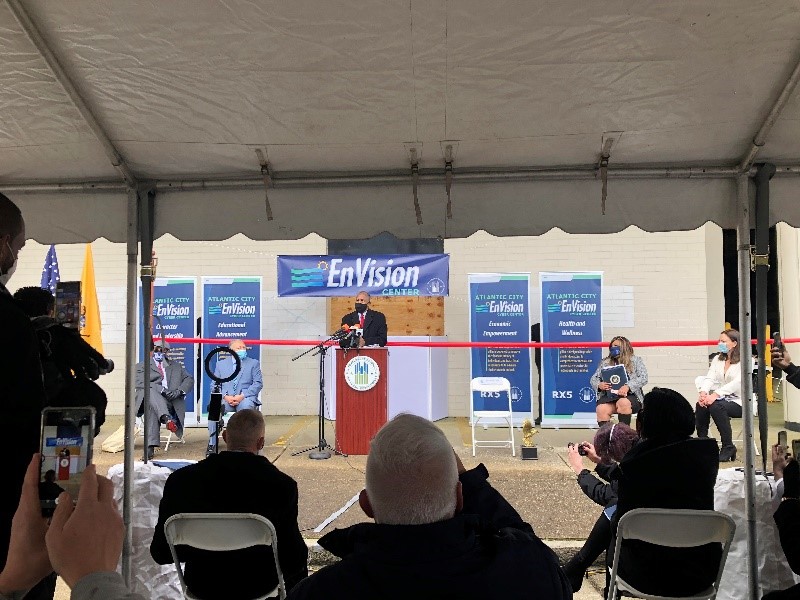 HUD Secretary Ben Carson and community leaders give remarks at the Atlantic City RX5 EnVision Center
"The Atlantic City RX5 Cyber EnVision Center is the definition of a success story on all levels," said HUD Secretary Carson. "The great work being done at the previous location became so expansive that it outgrew the constraints of its own four walls and a new location had to be sought out. Today, the ribbon cutting at this new facility will allow for resources to be utilized by members of the Atlantic City community on an even larger scale. There is so much good being done in this community and I am thrilled to be here to recognize and celebrate it."
"It is evident that not only is Secretary Carson a hero of mine, but he is a hero to the entire Atlantic City community. His presence here today has electrified the already exciting grand opening of the official RX5 EnVision Center Atlantic City that will bring job training, continuing education and family resources to AC's long-suffering residents," said Lynne Patton, HUD Regional Administrator for New York and New Jersey. "I want to thank Jimmy Whitehead for his leadership, as well as Mayor Smalls, Congressman Van Drew and Lt. Governor Sheila Oliver for their valuable contributions and commitment to the Monopoly City."
"This EnVision Center offers the hope of economic rejuvenation by bringing high-value jobs and services to Atlantic City," said Congressman Van Drew. "I thank Secretary Carson for working with our community to bring this project to fruition, and I'm proud to have played a role in bringing this one-of-a-kind facility to South Jersey."
"Atlantic City's long-standing issues require investing in a diverse economy with career opportunities that offer high earning potential, addressing chronic social challenges that stem from the city's high poverty rate, and building up people, particularly our youth," said Lt. Governor Sheila Y. Oliver, who serves as Commissioner of the New Jersey Department of Community Affairs. "Governor Murphy and I are pleased that HUD is investing in this upgraded EnVision Center to provide people access to economic empowerment, educational advancement, health and leadership development to help address some of the City's challenges. We're proud to partner with them on our endeavor to create a stronger and fairer New Jersey for everyone."
A national initiative, HUD's EnVision Centers coordinate with federal partners and local organizations to empower all people to fulfill their potential by providing the tools needed to succeed. Click here to learn more about the EnVision Center initiative.
###
HUD's mission is to create strong, sustainable, inclusive communities and quality affordable homes for all. More information about HUD and its programs is available on the Internet at www.hud.gov and https://espanol.hud.gov.
You can also connect with HUD on social media or sign up for news alerts on HUD's Email List.