Moonridge (Coastside Farm Labor Housing)
Moonridge (Coastside Farm Labor Housing) is one of many Success Stories that have been locally nominated for recognition in celebration of CDBG's 30th Anniversary.
Success Story Details
Grantee:
County of San Mateo
Field Office:
San Francisco (Region 9)
Carried Out By:
Mid-Peninsula Housing Coalition
Eligibility:
Acquisition, infrastructure, off-site improvements, relocation assistance
Natl. Objective:
Low/Mod Housing
Funding:

| | |
| --- | --- |
| CDBG | $ 4,086,700 |
| Other | $24,560,500 |
| Total | $28,647,200 |

Date Started:
1990
Date Completed:
2001
IDIS Activity Nos:
1994-0002-2 / 1997-0026-40
Grantee Contact:
Steve Cervantes (scervantes@co.sanmateo.ca.us)
Grantee Website:
County of San Mateo (http://www.co.sanmateo.ca.us)
Success Story Description
Moonridge I & II
Half Moon Bay, CA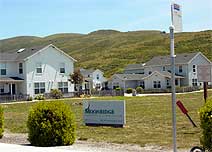 The opening of Moonridge I in 1999 and Moonridge II in 2001 marked the successful conclusion of a fifteen-year effort to develop affordable housing for farmworker families on the San Mateo County coast. The effort was initiated by former County Supervisor, now U.S. Congresswoman, Anna Eshoo. Other elected officials, advocates and developers continued Eshoo's efforts, but were stymied by the enormous obstacles encountered.
In 1985 the County entered into a development agreement with a private company to develop the site as a 160 unit manufactured housing development. In 1990 the County bought out the developer's options and purchased the land.
In 1991, San Mateo County turned to Mid-Peninsula Housing Coalition to tackle the obstacles that had stalled the project for years, including access, financing, environmental concerns, critical sewer and water connections shortages and the potential impact of the development on the local schools.
Over the years the CDBG program has been used to assist in a number of different eligible activities including land acquisition, on-site and offsite infrastructure improvements including roads water, sewer and fire suppression, environmental studies, design work and relocation assistance.
Today Moonridge offers 160 units of affordable housing for agricultural workers in a development designed by David Baker Associates to reflect the style of the area's farmhouses at the turn of the century. Duplex and fourplex style buildings situated in small groups give the development a community feel. MPHC built classrooms now staffed by the College of San Mateo, a Headstart Center operated by the School District, a Community Building, and a computer technology center. Recently Intel funded a state-of-the-art computer technology laboratory on the premises. Other amenities include playgrounds, tot-lots, a soccer field and basketball court. Many residents plant and tend the community gardens.
Moonridge has been awarded the prestigious National Low-Income Tax Credit Coalition's Award, "Best Rural Project in the Nation", a Gold Nugget Award from the Building Industry Association, and an award from the California Council of AIA. It was selected for the "excellence in design" website hosted by the College of Architecture and Art at the University of Illinois.
Content Archived: April 20, 2011