Sheboygan, Wisconsin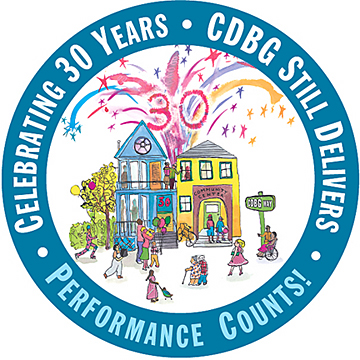 Water Street Housing Redevelopment Project
CDBG 30th Anniversary Recognition of Excellence
The Water Street Housing Redevelopment is the largest housing redevelopment project in the history of Sheboygan and has created 198 units of multi-family and elderly housing. The project is located on 15 acres along the Sheboygan River on an old industrial site. The residential section of the neighborhood, in close proximity to downtown and a scenic riverfront, was in serious disrepair with many vacant lots. The neighborhood was in such bad shape that longtime residents of Sheboygan commonly referred to it as "the Hole".
In 1995, the City of Sheboygan began acquiring tax delinquent parcels and purchasing and cleaning vacant lots with $1 million in CDBG funds. Next, the City of Sheboygan approved a Tax Incremental Financing (TIF) district, which contributed $6 million and was awarded $1 million in Section 108 loan guarantee assistance to acquire the remainder of the buildings on the site. Good planning and $2 million in CDBG funds allowed the project to leverage an additional $15,000,000 in private sector dollars. The project also received $1,000,000 in Section 42 tax credits from the Wisconsin Housing and Economic Development Authority (WHEDA) and on-going assistance from HUD Section 8.
The results are impressive. An old dilapidated industrial building was completely rehabilitated into a 72-unit apartment building. The beautiful Garton Toy Factory has a mix of 50 Section 42 affordable family units and 22 market rate family units with gorgeous views of the Sheboygan River. In addition, there are 66 units of HUD-subsidized Older Adult housing at the Waterview Senior Apartments and 60 Section 42 affordable family units at the Riverwalk Apartments. The success of these projects has facilitated a -unit market rate condominium project, named River's Edge, and in 2004 a ground-breaking ceremony was held for the first of 27 market rate townhomes and condominiums. The Water Street Redevelopment project also includes two neighborhood parks with amenities that include: restroom facilities, trails, playground equipment, a basketball court, sand volleyball court, children's splash pad, benches, lighting, and landscaping.
According to Mayor James Schramm, "Sheboygan has embraced change and has worked hard toward an integration of lower and higher income households and neighborhoods that offer recreational, cultural, and social opportunities to all people of all backgrounds, incomes, and ages. Teamwork played a pivotal role in the Water Street Redevelopment Project. Without the cooperation of HUD, WHEDA, Wisconsin Department of Natural Resources (WDNR), private developers, and more importantly the residents of the community, the Water Street neighborhood in the City's downtown district would have remained blighted, dilapidated, and contaminated. Instead, Sheboygan celebrates a neighborhood that is diverse both economically and culturally, with architecture that is high quality, cohesive, and desirable."
Content Archived: April 20, 2011